So Lexi didn't even make it to the start of the wedding. She was done sitting still while people were being seated. Hah! No surprise there. Mike took her out so she could run. Natalie was sitting up a few rows with Uncle Cory (who else?!) and my parents. I couldn't see too much of the wedding, the ushers seated the family in the mid-back of the church and left the first 4 rows empty. But what I could see was lovely. I only wish I could have taken a few pictures!
While waiting to be dismissed, I snuggled with Evan for a bit.
At the reception, MawMaw got him!
Lexi was very curious. She wasn't jealous at all, just wanted to see his little face. I love how she is standing up on her tip toes:
Snapshot of us. We wish Chase could have been in this one!
Katie and Cory:
Mike and I:
Entertaining Lexi with the dinner napkins:
MawMaw was grandchildren hopping that entire night and it was so fun just to watch her. She'd snuggle Evan, talk to Chase, talk to Natalie, and sneak some kisses from Lexi:
Natalie anxious to get out on that dance floor!
(click on this to see) Lexi dancing to the dinner music: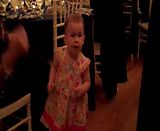 They finally got out there after dinner and entertained quite a few people with their cuteness.
(click on this) More dancing. They have the moves: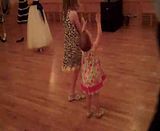 Bouquet toss! Lexi is making her escape:
Doug with his boys:
Last picture of the night, Lexi in the beautiful gazebo: