Natalie starts school next week. I will miss her terribly during the daytime, but at the same time I'm anxious for her to go. Be busy. Make friends. Learn. Grow. Play. She needs that. I really think Lexi is going to be lost without her for the first week. Lexi cried all the way home, every single time we dropped Natalie off (instead of walking her in) last spring. Natalie has become so much more confident in the pool this summer. She has enjoyed it so much. We are doing piano lessons again, and she is doing a great job! Her latest interest is She-Ra and He-Man. Yep. Netflix streams the old 80's cartoons and she has watched many of them. She wants to be She-Ra for Halloween, and wants Daddy to be He-Man. Can you imagine Mike in this?
BAHAHAHAHA!
Moving on....
Lexi is into everything as usual. I caught her in the pantry today, standing on a box and pulling up on a shelf that held her favorite snack. When I spotted her, she didn't even have the decency to act innocent, or ashamed, just pointed at the snack she wanted and yelled for my assistance. The nerve! ;) She is still so much of a monnie's girl. I love the snuggles, pats, kisses, and all the affection. Better yet, her ornery behavior and budding sense-of-humor makes me proud and keeps me laughing. Lexi loves to lift everyone's shirt and point out their belly buttons. Fair warning. :) She loves Mike's hairy chest/tummy. She lifts his shirt and lays her head down on him and snuggles amidst the fuzz. Such a random quirk, but adorable. Lexi also insists I brush her hair every time she watches me fix Natalie's hair, or my own. Are you kidding? A light breeze could fix hers just as easily.
But it is growing!! Progress, people.
We haven't had any luck selling our house. We are thinking about taking it off the market for now and paying it off. Yes, OFF. As in, no more mortgage. I have a few good ideas of things I could do to bring in some money to throw at that.
I was planning to run a 5K soon, but that will be pushed back for a couple good reasons: 1-That weekend, there will soon be a new baby in the family and I cannot wait to go snuggle my new nephew and celebrate with my sister-in-law and brother. 2-I'm not done with my training. It got royally delayed with the pregnancy/miscarriage, but I am not giving up! I'm still at it, and
will
run a 5K. October is now my goal. I'm also throwing in a few workout DVD's on the days that I don't run. Ab ripper X, 30 day shred, and kenpo X are a few of my favorites.
Several people have asked for updates. I'll just say this:
1-All the blood tests since the miscarriage have turned up normal.
2-I have no idea when we'll try again. It'll be awhile, because:
3-I still have to have another test in a few months where they inject saline into my uterus (to inflate it) and look at it through ultrasound. They're trying to attempt to find a reason for all the hostility. Is it painful? Somewhat, yes. But I've been through it before and know what to expect this go-around.
4-Emotionally I'm doing well.
Fuzzy-face is almost a year old already! Since he's a rescue, we don't know his actual birthday, but I put August 18th on the calendar. Just because. He's so energetic and playful yet. But a good dog. Really, he is a sweetheart. He even lets Lexi follow him around and love on him: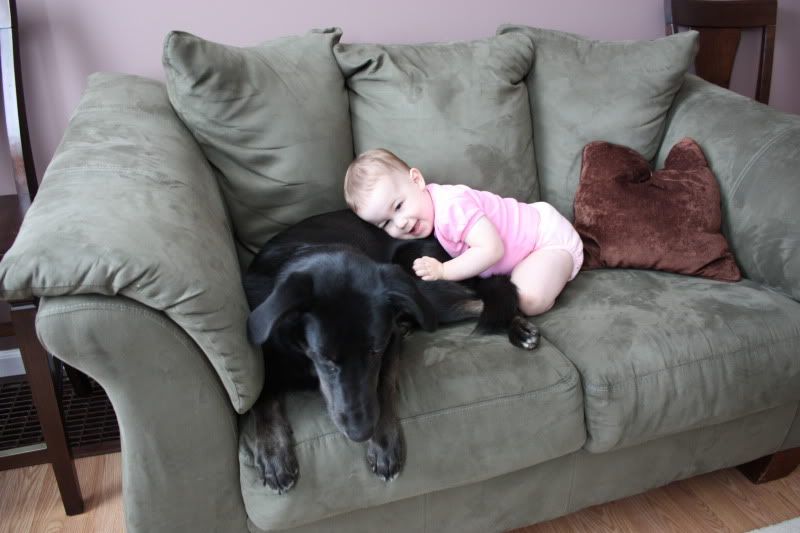 It is past my bedtime, and my alarm clocks don't have a snooze button. G'night!