We just went to Disney World. What an experience! Mike and I decided several months ago, that we needed to make this trip. Natalie is the perfect age for this, and her interests right now are very much into Disney characters and princesses. Not to mention we have not been on an actual vacation in FIVE years. We have been busy paying off debt in those years and living on "beans and rice, rice and beans." So! We planned this on a budget...as we pay for everything in cash.
Several months ago, I'm looking up resorts down there. A place with 2 rooms and a
tiny
kitchenette was over $650/night. Whoa! I guess Disney and my budget have never met. I called up my mom. It went something like this:
Me
: Mom, I know this is a long shot, but do you guys happen to have an extra week in your timeshare we can use?
Mom
: Actually, I think we do. What's going on?
So I explain this to her and she talks to dad, and they decide to gift us with this marvelous week in a very nice condo. Then, Mike and I got to talking and wondering how this is going to go with Lexi coming along with us. We promptly decide that we are going to need helping hands. Lots of them. Because I've come to the conclusion that anyone that does a Disney trip with children two years or under
without help
are out of their freakin' minds. Messing with little kids schedules and nap times =
drama
!!!!
*
RING
*
Me
: Mom! Would you and dad like to
GO
to Disney with us???
So that is how my parents got roped into this with us. You give a mouse a cookie...
We kept our Disney trip a secret from Natalie until about a month ago. We told her and enjoyed watching the excitement build. She even had trouble falling asleep the week leading up to our trip. (She has been asking to go to Disney World for a couple years now)
This is on our way to the airport:
We had a short layover in Birmingham. Natalie quickly made friends with a bunch of kids that were also headed to DW, and had a card game going with them before long. (They are in the background of this picture) Lexi finally gave it up, and crashed on Daddy's chest.
The girls flew great! It was hard work keeping Lexi entertained while sitting down, but when I ran out of options, I just threw her over the back of my seat into MawMaw's lap.
Natalie had terrible ear pain when we landed in Orlando. We worked with her a long time to try and clear her ears, but to no avail. She cried all the way to our condo (also extremely tired) it was awful to not be able to do anything for her. As soon as we were on the condo property, I unbuckled her and scooped her into my arms. She cried and whimpered all the way up the steps. I gave her pain meds and a decongestant, and she crashed for four hours on the sofa. After my parents and I got back from getting groceries, Dad checked her ears and said they were
not
infected, and I put her to bed. The next morning she woke up bounding off the bed with a smile and asked if we were going swimming! I blinked a couple times and said sure!
This is what church service for the golfers in Florida looks like:
We took Natalie putt-putting the first day while Lexi napped. We were all still tired from traveling and enjoying a slow day:
Natalie had fallen on the course and after that wasn't having any fun. We were trying to get her back into it, with very little luck:
So we decided to take silly pictures instead...
which seemed to cheer her right up!
More silly pics:
Silly with Daddy:
Pics with monnie--the kiss was unprompted. I love those moments!
Our trek back to the car earned Natalie a piggy back ride:
Family pic!
Poor girl was melting while wearing jeans. (It was cool in the shade, hot hot
hot
in the sunshine) I rolled the windows down and she was loving the breeze!
Swimming later that day: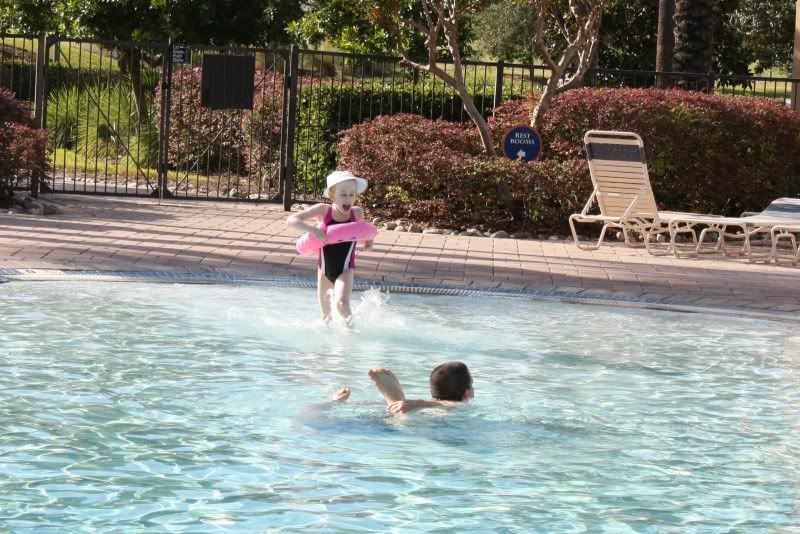 Lexi knows just how to vacation!
Natalie dunking Mike...and giggling hysterically! (the whole pool side was laughing with her)
When Lexi was done I wrapped her up, plopped her in MawMaw's lap, and popped a bottle in her mouth. Happy baby!
I promise we did NOT wrap her in a straight jacket. Just bundling with towels...although some days that idea would have appeal. ;)
Daddy-daughter chats:
One of the many things we planned ahead for were souvenirs. It is much cheaper to buy them away from DW/Orlando area! We bought things we thought Natalie would like ahead of time, wrapped them, packed them, and gave Natalie one gift a day while we were there. She received Perry the Platypus on the plane ride down. (She loves Perry!) He chitters too! Natalie gave him stroller rides in our condo: