We intentionally planned a day of rest between our Disney park days. Ohhh we needed it! Tuesday morning we slept in and then after swapping out the rental van (dead battery) we were on our way to the beach! I planned for the closest beach to Orlando, in order to spend as little time in the car as possible! Cocoa Beach it was! Before we left, we had a couple of silly girls playing together under the coffee table: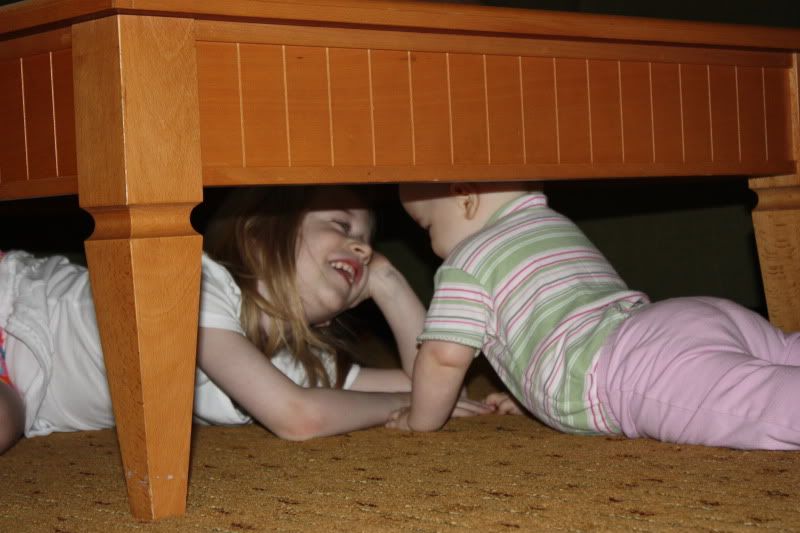 The drive to the beach went quickly, and Lexi stayed happy as long as I had my arm next to her face in the car seat. No imposter arms were allowed. Only Monnie. She has become fiercely attached to me recently, and carrying her around at the park the entire day before didn't help. Now she apparently needs me in the car as well. We're working on it...baby steps you know.
Lexi and I didn't wear swim suits that day, b/c I didn't plan on going in much, just at the edge to play with Natalie and let Lexi dip her toes in. Mike wore his trunks, and I packed Natalie's swimsuit...or so I thought. We got there and I discovered I forgot her suit. *face palm!* Argh! We let her go in anyway, clothes and all. She had a blast, and that's all we wanted from our day at the beach!
So here we are at Cocoa Beach, FL! The weather was beautiful, but windy.
Yes, I took several pictures of my sandy toes, just so I could brag that I have been on the beach! Remember, this is my first vacation in many years...I'm getting a little bit into this.
Look! More sandy toes!! (Actually, my favorite part about these pictures are the background with my little Natalie playing)
Nursing on Cocoa Beach
Jumping in the surf with my fun five-year-old:
Here she is going in the water with Daddy. She was having a blast and I could hear her giggling, then they came back to the edge again. I asked Mike what happened, and he said a big wave knocked into her (even though Mike had a hold of her) but it startled her, she got a taste of the water and she was done. LOL.
MawMaw kept Lexi happy on the sand by feeding her:
Natalie jumping between us. This is probably my favorite picture from the day:
Dipping Lexi's little toes in the Atlantic. Now we can say she's officially been in it...for 20 seconds. Can you tell if Natalie was having any fun?
Sweet beach bum:
Here are all of our sandy toes. The hairy one's belong to Mike. Just so you know.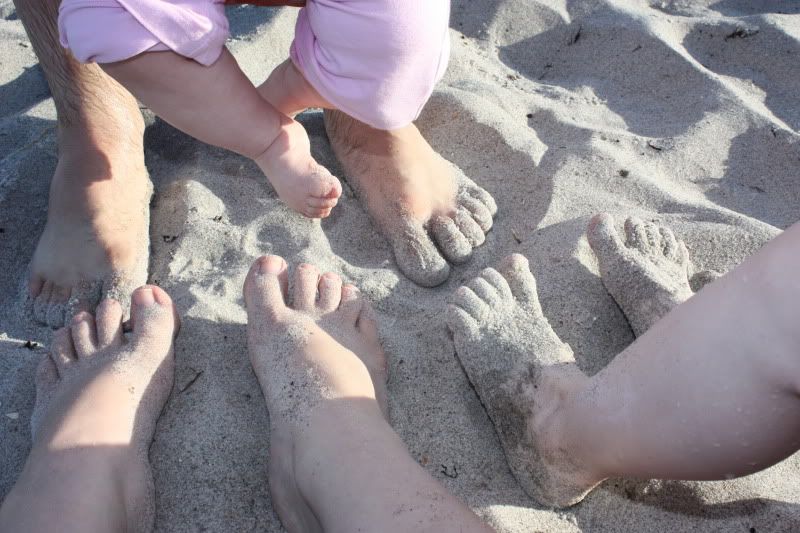 The ride back went great (again, the arm next to Lexi) and Natalie was happy playing angry birds on my iphone...naked. At least we wrapped her in a towel. Next time, I'll pack the swimsuit!