This is how our home has looked for many, many years. Not awful, but not what I would have chosen for it.
Enter the terrible storms this April, some wind and hail damage, plus a label of "FEMA disaster zone," and we were granted all new siding, all new gutters, and a few roof patches by our homeowners insurance company. Work started yesterday, and the first thing they did was close up the 2nd doorway on our front porch. I enjoyed picking out the color of our siding too. Here is the work in progress:
Our old siding was all aluminum. Which is so much more expensive than vinyl, and hardly ever used anymore b/c it just doesn't hold up as well. Because we wrapped the house in vinyl siding, that gave us quite a bit of extra money to put back into the house. More on what we did with that later...
White double panel shutters are on order. I am really loving this dark gray siding!!
Old front porch view (with door that was removed):
Door would have been on very left of this picture. Slightly different angle, but you get the idea:
Notice that horrible, rusted wrought iron railing?? That is SO common on houses where we live. I have always hated it, especially because it's so unsafe to have little ones out there. I'm sure it looked great 50 years ago, but no longer!
We are using part of the extra money we have to put up a new white PVC railing, and supports along the porch. SO much safer, and much nicer to look at!! (There is about a 3ft drop off the side of our porch) They haven't gotten to it yet, but not only are we replacing the front porch railing, but also adding a railing for the steps in our front yard, and two matching railings for the steps coming off the back door of our house.
Then we are finally enclosing the fencing in the back of our yard. We're paying out-of-pocket for that one, but I refuse to even take the girls outside to play anymore because we keep seeing stray pit bulls here and there in the alleyway. ***Gah! I hate those dogs!!!*** I want to finally enclose it so we can utilize our back yard again!
There have been many interesting discoveries since yesterday. (Which we expected because our home is over 100 years old!) Apparently it used to have many more windows than it currently does now. I guess when they renovated it before we bought it, it was cheaper just to close up some of those windows than to replace them. Lots of other shoddy work was discovered...like the lack of insulation in important areas! Which we assumed because we could always feel the cold air seeping through the walls in the winter.
This is looking out my kitchen window, toward the backyard/alleyway. Those shelves you see, used to be white aluminum siding. When they tore that down, it revealed a window casing that was made into a bookshelf, and full of old books! So bizarre.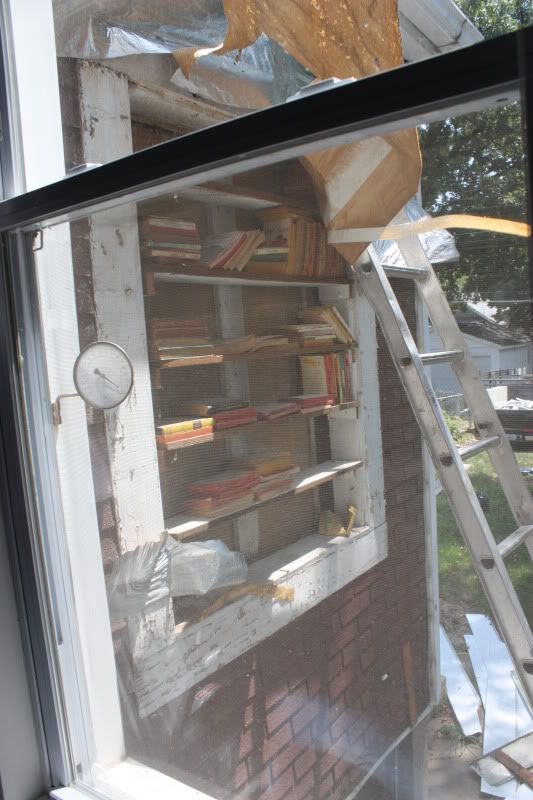 Even though it's too small to read the numbers on my window thermometer in the above picture, it says it's about 109 degrees outside at this time...in the shade. It's miserably hot out, I am incredibly impressed with our hard workers! They're machines!!!
This is the inside view of our living room, with the door closed up. We have the drywall up, but still need to mud and tape it. Then of course prime and paint the entire living room. I took this picture last night. Mike's parents joined us for dinner and some playtime with the girls. :)
Oh, and we're also ripping up all the carpet/vinyl flooring on the main floor of our house within the next couple weeks. We're having laminate installed. Our carpet was installed probably about 7 years ago (before we moved in...cheapy-cheapy goes along with shoddy work) and wore out about 4 years ago. Replacing it has not been on the top of our list of priorities, but now it is. We can't wait to get rid of this worn out, allergy aggravating carpet!! Buh bye!
Whew! Is anyone else tired just reading about all these projects?!?