Natalie's birthday happened to fall on Mother's Day this year. It was pretty special that not only did I get to spend it with my daughters, but my mother, and mother-in-law as well. It was a great day!
Natalie received a pretty "party dress" the night before, so she wanted to wear it for her birthday. Unfortunately, she had been a pretty sick little girl the days leading up to her birthday, (104 degree fevers for 3 days) and although she was much better on Sunday, she had fever the night before so we didn't get to go to church. She was a little disappointed, but thankfully didn't seem to mind too much.
The morning started off perfect with us singing happy birthday to Natalie after she woke up. We had breakfast together in our bed while Lexi still snoozed. You'll notice she has a birthday crown on. She only gets to wear it on her birthday (I think this is the 3rd year she's had it) so that will probably be in almost every picture.
My girls: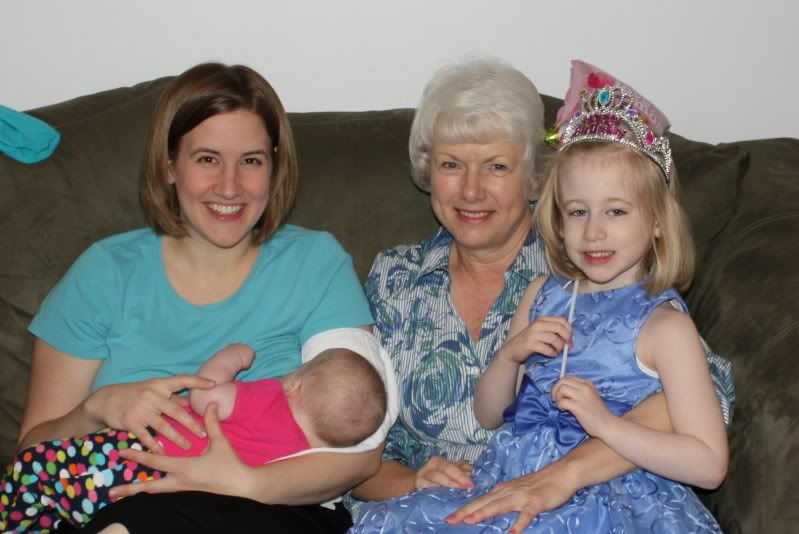 Natalie showing off how her dress swirls when she spins:
Loving on her lil sister:
It seemed like an eternity for this little girl to wait for our guests to arrive! She was antsy to open gifts! PawPaw was a gem and played with her for the longest time with these balloons. It made for some neat pictures too!
Party guests arrive! Here is Pop hanging out with Lexi:
Hi Nani!
Sweet smile from the birthday girl:
Throwing paper:
She opened a gift that I knew she would LOVE! It's a Cinderella carriage set, complete with horses, mice, and the fairy godmother. She squealed when she opened this! It was hilarious.
Hugging her gift! What a joy to watch her excitement! She received a lot of neat gifts!
Daddy, the card-reader:
U.B. & Lexi
We got Natalie Disney's Sing It on Wii. She tried it out in front of us (and did really well!)
But when we cheered and clapped, she got embarrassed:
So Pop showed her how it's done:
She wanted to sing more, but not by herself. So I sang with her. We rocked it.
This picture is just hilarious. Not only my expression...obviously I'm totally into it, but Mike (who refused to sing) is just wishing he was half as cool as us.
Five candles for the birthday girl! (Lexi is more impressed by the ceiling fan)
The paparazzi...oh, and see my pretty tulips on the table? Those were my gift from my girls on Mother's Day:
Lexi giving out smiles:
Twister!
Reason 634: why we always put shorts on under Natalie's dresses!
My precious girls...5 months, and 5 years!
Love, love, love them!!