As the four of us were heading back home the Monday before Christmas, we hit a deer with our new (to us) minivan. It was dark and we were on a 2 lane highway. Mike was driving and didn't even have time to brake or honk the horn. It ran behind an oncoming car, and then in front of us. We didn't see it until the moment we hit it...at 60 mph. Mike had absolutely no reaction, just coasted us off to the side of the road as smoke was barreling out of the engine.
I yelped when we hit the deer, I was so shocked! The sound of the impact (and my yelping) startled Lexi out of sleep and she was screaming. Natalie was scared but she and I just kept talking. Mike and I were immediately on our phones (thank GOD for cell phones!!!) calling AAA, our insurance, hwy patrol, and someone to come get us. We sat on the side of the road for almost 2 hours.
Other than the inconvenience of hitting that darn deer, we were very, VERY blessed:
1. Unseasonably mild weather, we stayed warm without the van heater
2. Hwy patrol was there within minutes to help slow down traffic
3. We didn't get hit again
4. Mike was able to get us to the side of the road in the first place
5. Our "hazardous" situation with young children bumped us to the top of the list for a tow truck
6. Natalie was so incredibly well behaved and calm
7. Free towing because I pay the extra AAA fee every year
8. The deer did NOT come up into the windshield...which probably could have easily happened with a smaller vehicle.
9. Most importantly, NO ONE was hurt.
Mike and I
very much
felt God's presence and protection there with us that evening.
My Dad was there about an hour after I called him, he arrived at the same time as the tow truck. We hopped in his car and met the tow truck and hwy patrol in a parking lot about 2 miles down the road to transfer our stuff out of the van. I was so happy to get off the side of the road. Thank you so much for coming to get us, Dad!! You're the best!!
It was a long night. Natalie stated it best as we pulled back into my parents driveway, "What. A. Night. *sigh*"
Here is a picture of our van, and the $4600 of damage: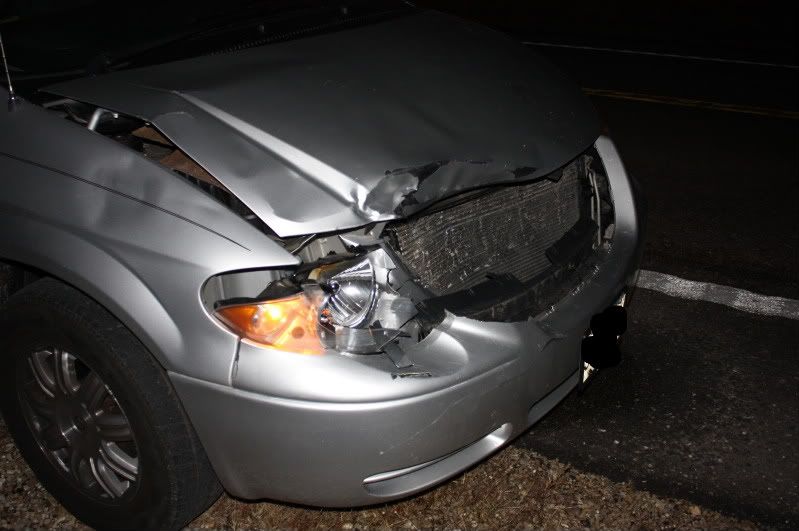 ...thank goodness for good car insurance. The van is not totaled, it is currently in the shop and we will have it back by this weekend.