My due date has been bumped up to December 1st now. (it was Dec. 3rd) Who knows. It's all kind of a spin-the-wheel guessing game anyway. We'll see her whenever she gets here!!
I had my monthly doctors apt today, and went through the routine glucose screening. Not all that pleasant (especially because I tend to have LOW blood sugar) but I scheduled it on Mike's day off so he could drive me. The solution itself isn't worth being dramatic about-although some pregnant women swear it's awful. It's just like flat orange soda, not what my first choice would be while fasting, but no big deal.
When the N.P. (Stacy) was listening to the heartbeat, our baby girl was moving SO much you could see my tummy jumping! Little one apparently LOVED that glucose drink! Stacy couldn't get a timing on the heart rate because baby was moving so much. She finally said, "well...we know it's a strong, steady beat and she's
obviously
happy in there!" LOL
We have another ultrasound scheduled at 32 weeks to see the few things they didn't get pictures of last time. At first I didn't care to repeat this, but once Mike and I got to talking we decided it would be nice to know everything looks healthy, (peace of mind) and of course to see her again.
By the time my blood was drawn, I was feeling queasy, hot, and lightheaded. Typical hypoglycemic symptoms for me. Natalie watched with wide eyes as the nurse drew my blood, and she even got to hold one of the vials to "help" her. :) We got to the car and I started munching and was feeling better within the next 90 minutes. SO glad Mike was driving!
Before we headed out for a walk this evening, Mike took my 25 week picture. As I was moving over to the regular spot for these pictures, Cole decided he wanted in on it!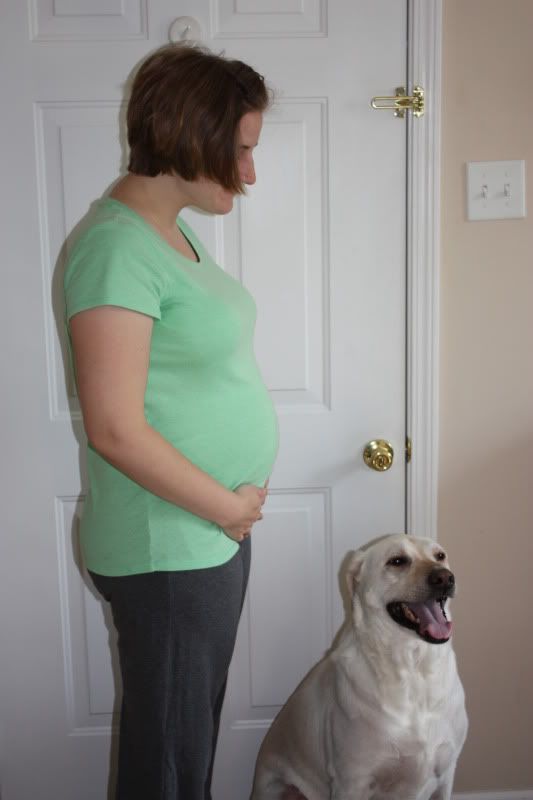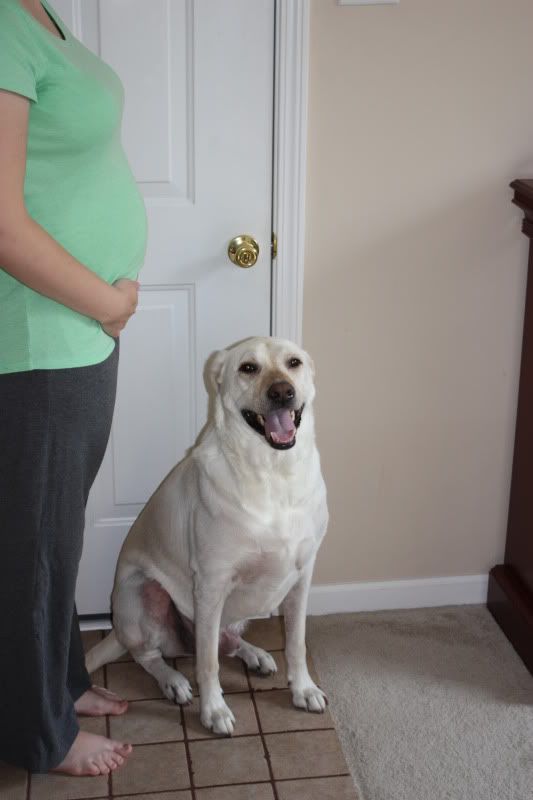 He meandered off when he realized nothing important was going on!
25 weeks!! 15 more to go!