I was nervous about today, as I was nervous about Natalie's 20 week ultrasound. Yes, it's so neat to see your baby and I was very excited about that. However, the whole purpose of this test is to check for problems, or potential problems. I knew they could possibly tell us something devastating that would forever change our lives. That sounds dramatic, but it's very true. So many things can go wrong during fetal development, it's amazing there are so many healthy babies born each and every day. Each one is truly a miracle! I'm really not trying to sound so negative or pessimistic...but Mike and I have been served a big dose of harsh reality the past 2 years, and we know what unexpected bad news feels like. Nerves aside, I focused on how many people have been praying for this little one...and tried to think about anything other than this test to make the time pass by quickly. Mike wasn't nervous at all, but when he knows I am, he has his hand on me. On my shoulder, knee, hand, neck...it helps. He's the rock of our family...his touch keeps me grounded and relaxed.
We got started quickly and right away we saw a healthy 4-chamber heart!! YESS! As the technician was taking measurements, I would occasionally ask if everything was looking alright so far. She was very reassuring to this nervous monnie! Natalie even had many questions, mostly asking her to explain what was on the screen.
Here is a semi-decent profile picture. (I say semi because the radiologist won't think much of it, but I think it's beautiful!) For all of you non-ultrasound people out there. The baby is looking down, head on the right, and face buried in the placenta.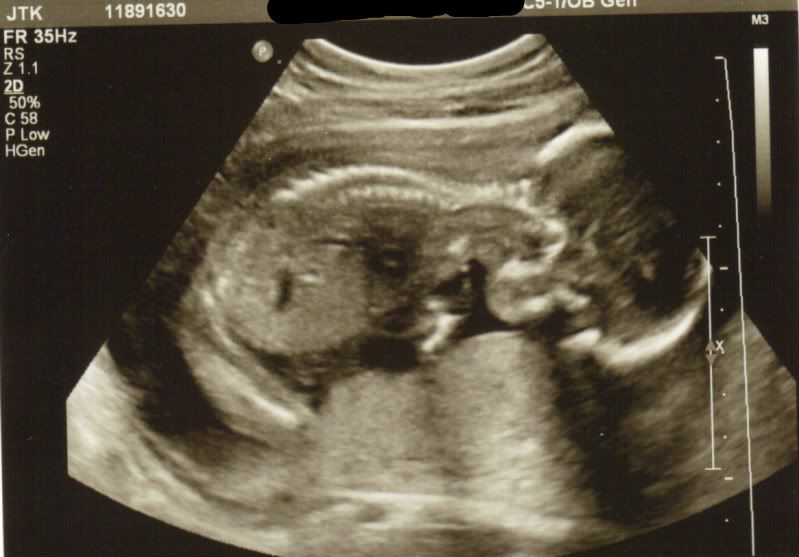 This sweet babe apparently uses the placenta as a body pillow which meant we never got a good facial profile picture.
In this pic, baby's head is on the right (facing us...see the skull bone?) and arm/elbow/hand are above the head Again, not very clear, as the image was taken through part of the placenta: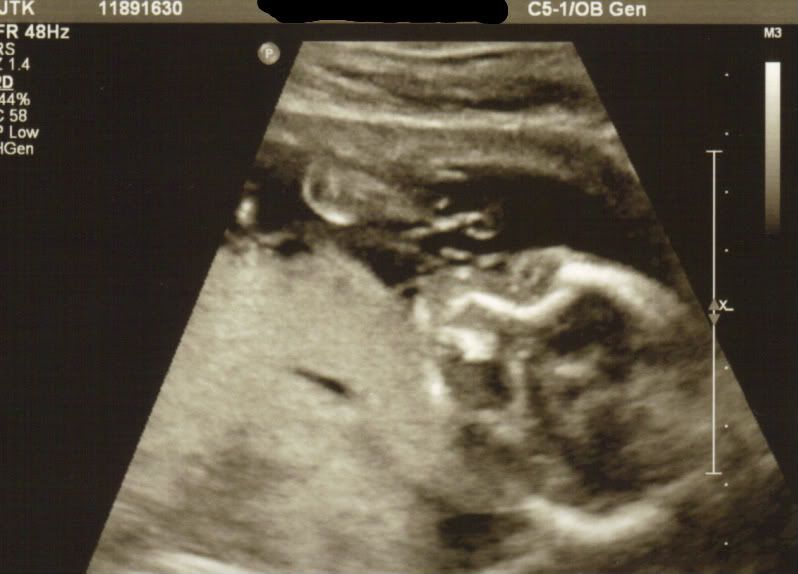 When we had first walked into the room, the lady asked if we wanted to know the gender. I said yes, and if it wasn't too inconvenient, to warn me before she was ready to announce it so I can get Natalie's reaction on video. (We had originally planned to have her put an obvious gender-picture in an envelope and open it over a special dinner tonight, but then we later thought this was a equally fine way to find out the gender)
So, as she was scanning the baby, she stopped and I immediately saw what she did. I said, "it's a G-I-R-L, isn't it!!!?!?!" She nodded yes, and I got the video camera out and told Natalie. Her reaction is adorable. If I can get it posted on here, I will do that soon!
Here is the evidence of our 2nd daughter: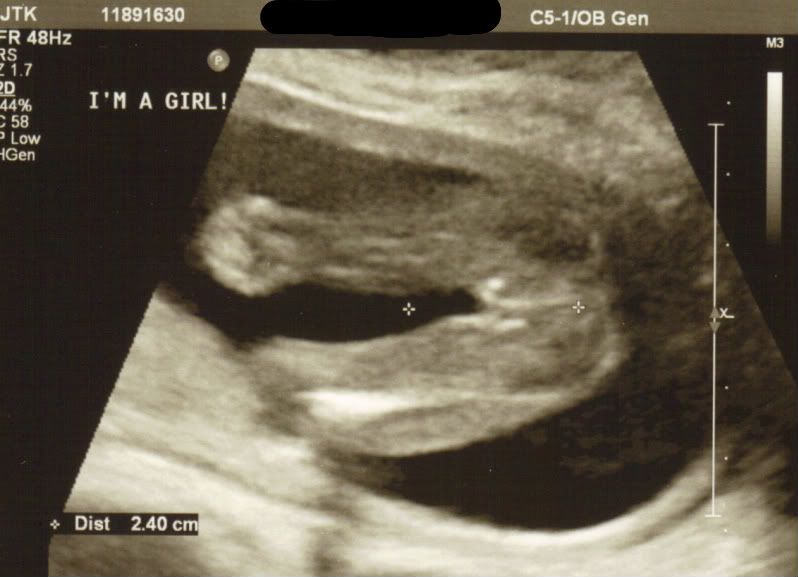 We never did get to see a good facial profile, or top lip/nose picture. Which means I may have to go back in so the radiologist can see that. He/she left it up to my OB. I am going to request we leave it be. The main reason is because the ultrasound technician said she saw those specific parts of the baby briefly at the beginning of the scan when baby was moving her head around. She didn't take a picture of it right away, (thinking there would be a better shot later) but everything she saw looked just fine. Her answer is good enough for me. Secondly, even if there IS some concern, I highly doubt it's anything major enough to change the course of delivery or treatment afterward.
Mike and I are over-the-moon tonight with the happy news of a healthy baby. We couldn't ask for more. The fact that God is blessing us with another girl is just simply the icing on the cake. We both felt that either gender would be wonderful, but we (of course) have a special place in our hearts for little girls. I am so happy that Natalie will have a sister to grow up, and old with. Siblings are our longest relationships. As we were making phone calls this evening to grandparents, we had one comment that "well, if you want a boy, you'll just have to keep trying." Even-ing up the gender count in our household is the last thing on our minds--as we are no where NEAR done having children. I'm sure we'll have a boy, maybe two or more in the future. Maybe not. It doesn't matter a bit to either of us! Even if we have a household full of girls surrounding Daddy, we're
both
thrilled.
More than anything, we thank God. We have said several prayers of thanksgiving together since the ultrasound for the news of our healthy girl. I have also been thinking over and over in my head "Thank you God. Thank you, thank you, thank you..." ...and then come the waterworks. Relief, elation, exhaustion, and thanksgiving.
We have never doubted God's greatness and goodness throughout ANY of this journey. We have
never
felt angry. At times I have felt timid to blog about the pain we've experienced but did it anyway. Why? Because I knew God would bless us again somehow, and I wanted to share our story with others to show God's love. To
prove
God's love and Will for our lives. And when He did bless us again, I could say, "See what He has done?! See how GOOD & GREAT He is?!" Even when we were hurting, we praise God (not just tonight) because we never doubt FOR A SECOND, how much He loves us.
20 more weeks until we get to hold our latest blessing. We'll see what God's plan is with adoption as well. Classes start next month!!!