Things are going well here! An old friend sent me a box
stuffed
with summer pregnancy clothes, and I have been enjoying them SO MUCH! Thank you for my new wardrobe Kathleen!! I have already had to pack away my regular summer clothes. I spent one evening washing my maternity clothes (that have been in storage for more than 4 years) ironing, and hanging them up. Is it sad that while I was ironing, Natalie points to what I'm holding and asks, "what's that Monnie?" Uhm...so I don't iron much! I DO, however, run to the dryer when it's done to hang up clothes so I don't
have
to iron!! :)
Baby is doing great, Mike can feel her kicking almost every evening. Two nights ago I had my first braxton hicks contraction....which really worried me for a while because I didn't start those until I was 35 weeks with Natalie. So I brushed the dust off of my pregnancy book, cracked it open and read that it's normal to have them anytime after 20 weeks. Oh. Well then.
Natalie has been very interested in puzzles lately. She has always liked them, but is rapidly advancing to more difficult ones. I took this picture right after she finished her first 100 piece puzzle (thank you target $1 spot) She is SO proud and only needed very little guidance here and there: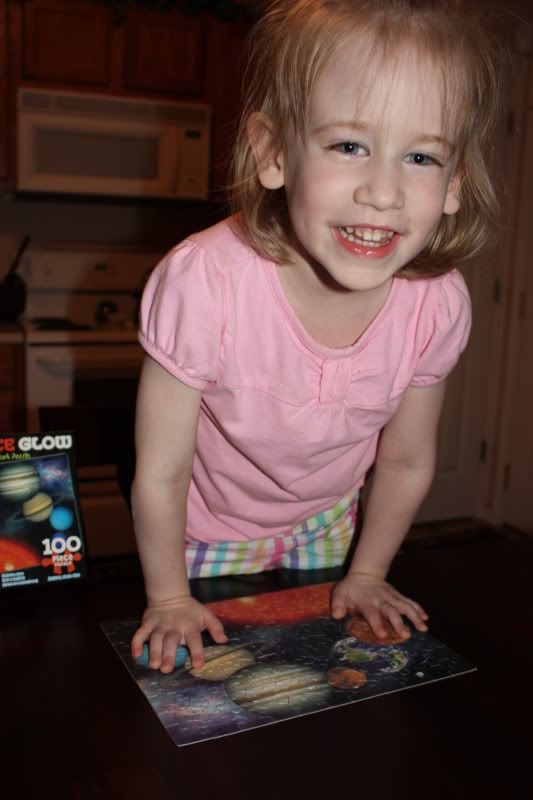 We had some friends over for dinner Thursday evening. I have known Clay and Joanie since I was a little girl through my home church. They have been staying in our area after Clay had a bone-marrow transplant. Please keep him in your prayers, specifically that his counts will keep rising. They are both some of the sweetest people I know and are very dear to me.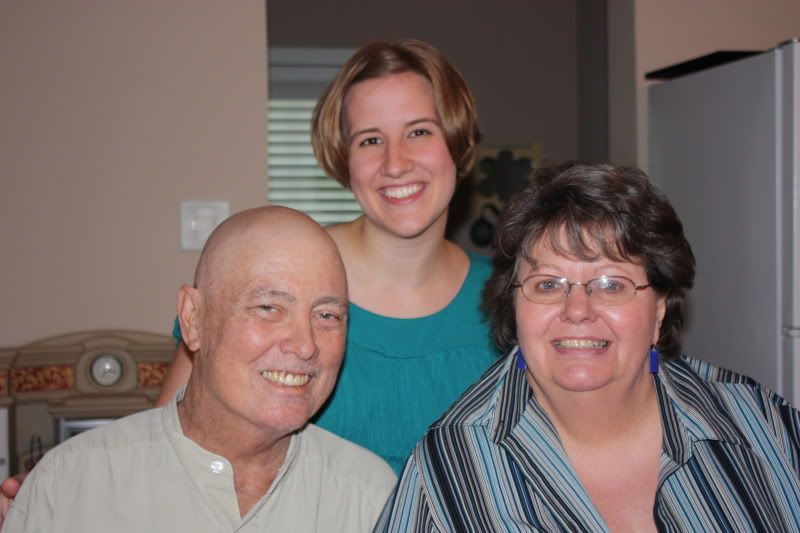 I have been buying some baby items off of Craigslist. I wish I had been familiar with it when we were expecting Natalie!! Mike and I bought a glider/ottoman and the Cadillac of baby swings, saving over $400. Both were gently used, and in close-to-perfect condition!
I have also been doing a little shopping for baby now that we know to expect a GIRL! We didn't know with Natalie so I never got to buy the pink stuff before she was born. Many of her newborn clothes and blankets are white, yellow, and green. Those will get used again but it's nice to have some pink and purple thrown into the mix! Someone also needs to keep me away from the fabric store...
...at least all of these things were 50% off!
Yesterday morning Natalie was in our bed 15 minutes before the alarm went off because of some faint rumbling of thunder in the distance. I told her to hop on in bed with us but she had to lay still and be quiet. She did great...or so I thought, Mike later told me she was drawing on his back with her finger the entire time. LOL! Mike took our picture before we left for church and low-and-behold, Natalie is SMILING in this picture: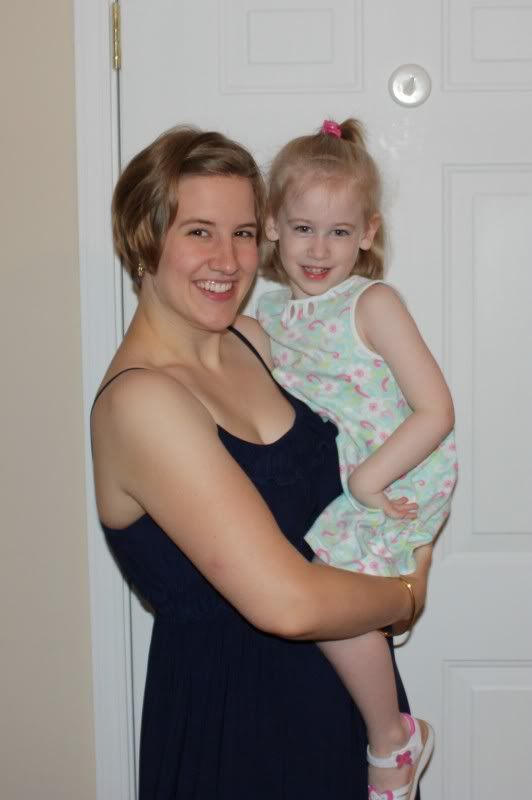 (Mom & Dad: just so you know, I wore a white summer sweater over the dress to church--no bare shoulders! :))
20 week tummy (not much different from last week):
I have my next doctor's apt in a couple days.