Yesterday, my husband turned 29! We had a great/busy day together! After we had breakfast...err, Mike and Natalie had breakfast, I-couldn't-seem-to-get-out-of-bed-because-I-was-up-6-times-to-go-potty-last-night-because-I-have-a-baby-that-uses-my-bladder-as-a-trampoline-even-while-I-am-trying-to-sleep-but-I-am-so
stinkin
'-happy-about-being-pregnant-I-am-smiling-at-4:45-in-the-morning-while-I-stagger-to-the-bathroom-in-my-sleepy-haze!!
SO! Once we ALL were up and had breakfast, we went fishing at the nearby lake. We had ZERO luck! Even the Mickey Mouse fishing pole wasn't working it's charm with the fish. Natalie was very disgruntled (she's used to pulling them in with EVERY cast at my family farm) but we will have to try again soon because they will be re-stocking that lake in the near future!
We came home and let Mike open his presents from us. He was very happy to get the
Wii
remote charging station (as am I...I'm tired of buying AA batteries!) :)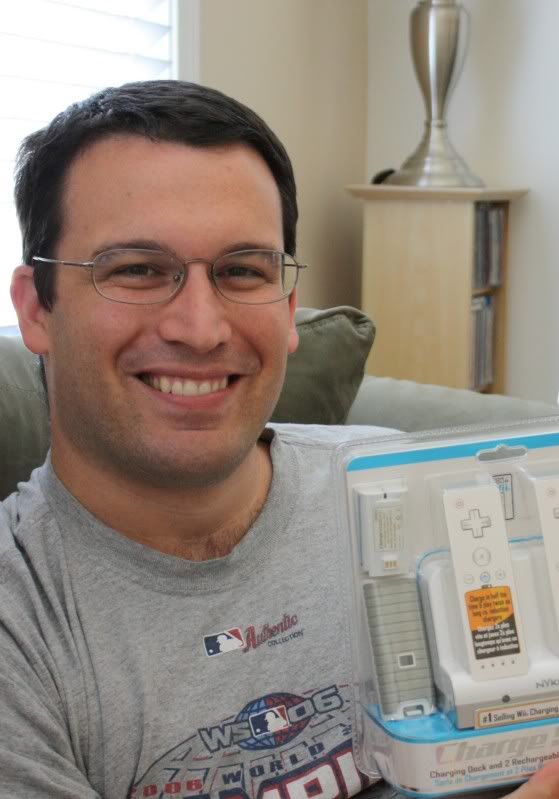 He also received a book, t-shirts, a few other small things, and a box of
THE BEST
steaks and burgers from the KC steak company delivered on dry ice (from my parents). Not to mention the birthday cash from his parents and grandparents!
Natalie napped, and around 4, Kim (a social worker) stopped by to start the home-study for part of the adoption process. She was fascinated with our story of why we decided to adopt, and then to stick with that decision even when I'm pregnant now. I explained that we felt led to the decision of adopting through the miscarriages, and even though we're pregnant with a healthy baby now, we felt God led us to the place where we are at, and He'll see us through. We feel it's meant to be-and part of God's plan for our lives...and if it's not (and we're wrong) then it won't happen anyway. We're
completely
walking in blind faith here, and learning about adoption as we go.
She then shared her story of how her (and her husband) adopted years ago. She had 3 children, and then found out a lump in her neck was cancerous, which meant no more children for her, even though they wanted more. So they adopted. If she kept having biological children, they probably would not have adopted. I love stories of how God's plan directs us in our lives! So encouraging and uplifting!
The visit with Kim was fantastic and she let us know immediately that we passed our home assessment. She had no recommendations for us other than to get a bigger fire extinguisher. We will not be working with her anymore (she just does the initial home evaluations) and I will miss her.
To keep the celebration for Mike's birthday rolling, we went out to one of our favorite restaurants for dinner, and then bowling. Where our 4-year-old daughter proceeded to whoop us and gloated about it!! She bowled a 122! (I think Mike and I were just points behind her, but she wouldn't let us forget that she WON!)
LOL
, we enjoyed watching her. We had ice cream on the way home and Natalie crashed right after we put her in bed.
Happy birthday Michael! You are the rock of our family and we love you!!