Since Thanksgiving (actually since BEFORE Thanksgiving) it has been hectic. Not just the normal hectic holidays, but you'll find out there was oh-so-much-more as I explain my absence from the world of blogging.
The weekend of Thanksgiving, we were at my parents house. Well, we were just thankful
not
to have the stomach flu this year. It was much more fun being able to eat and visit with everyone.
Natalie helping
Maw Maw
put away silverware after Thanksgiving: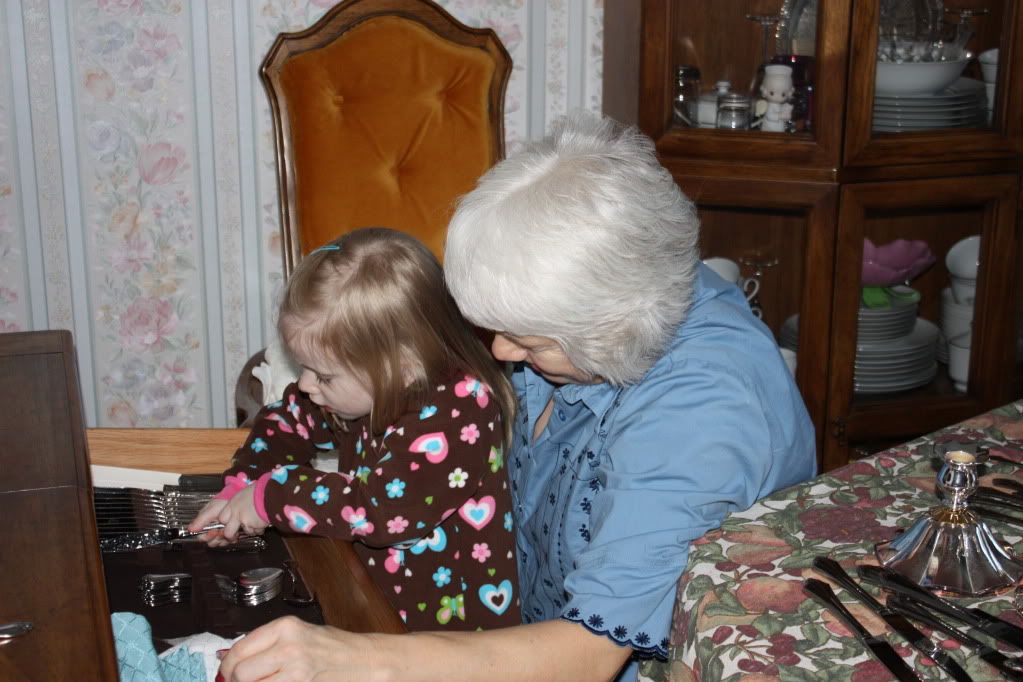 Tissing
PawPaw
...
in case
you're wondering, that's some sort of mask she's wearing. She found it in their house and insisted on wearing it: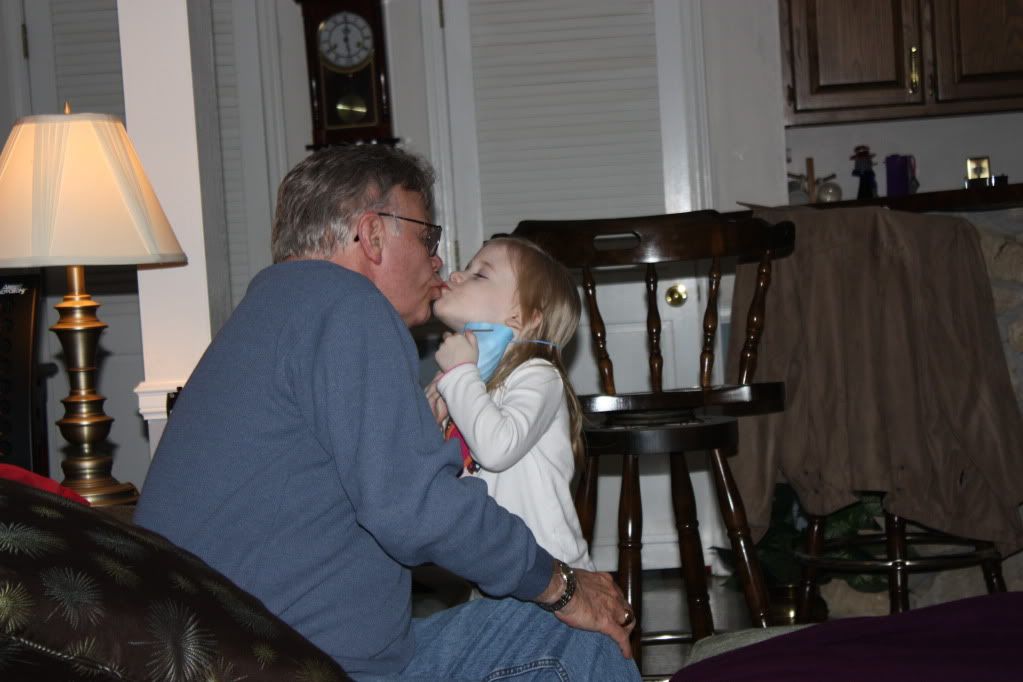 We left on Saturday and got back home in time to unpack, do laundry, make dozens of lists, pack back up and come back to my parents house early on Thursday.
Emily's wedding was on Saturday. Em is my best friend whom I have known since 7
th
grade. We went to the same middle school, high school, and college together. There are very few important memories of mine that she isn't in. She asked me about a year ago to be her matron of honor. She also asked for Natalie to be her flower girl. (I am so honored we were both very involved in this wedding and everything leading up to it!)
Ok
, Thursday was our day to relax a little. So I did things around my parents house and wrapped their Christmas gifts for them. (Long story short: Mom doesn't have time to wrap gifts, and I LOVE wrapping)
Friday was the bridal luncheon, then rehearsal, and rehearsal dinner. Natalie did very well throughout the entire evening, but shortly after we arrived at the rehearsal dinner I called my parents to come pick her up. She was tired and worn out. We left a couple hours later, looking forward to going to bed early.
Pics of the rehearsal (I'm asking Natalie to stop jumping on the alter):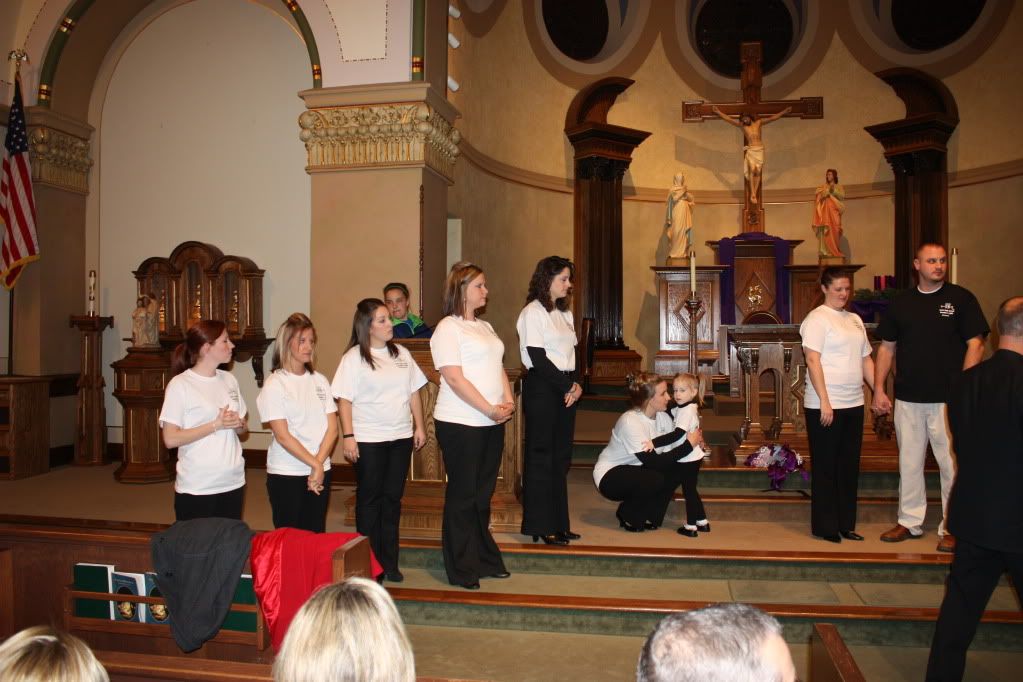 I never fell asleep that night. I dozed here and there but never truly slept. That's never happened to me before, I guess I had
pre
-wedding jitters for Em.
Saturday morning, the girls met up at 7:30 to go get our hair done. It was FREEZING outside. About 9 degrees when I woke up. Yep, and we were wearing strapless dresses that day.
Helping Em in the dress (which was beautiful
btw
!):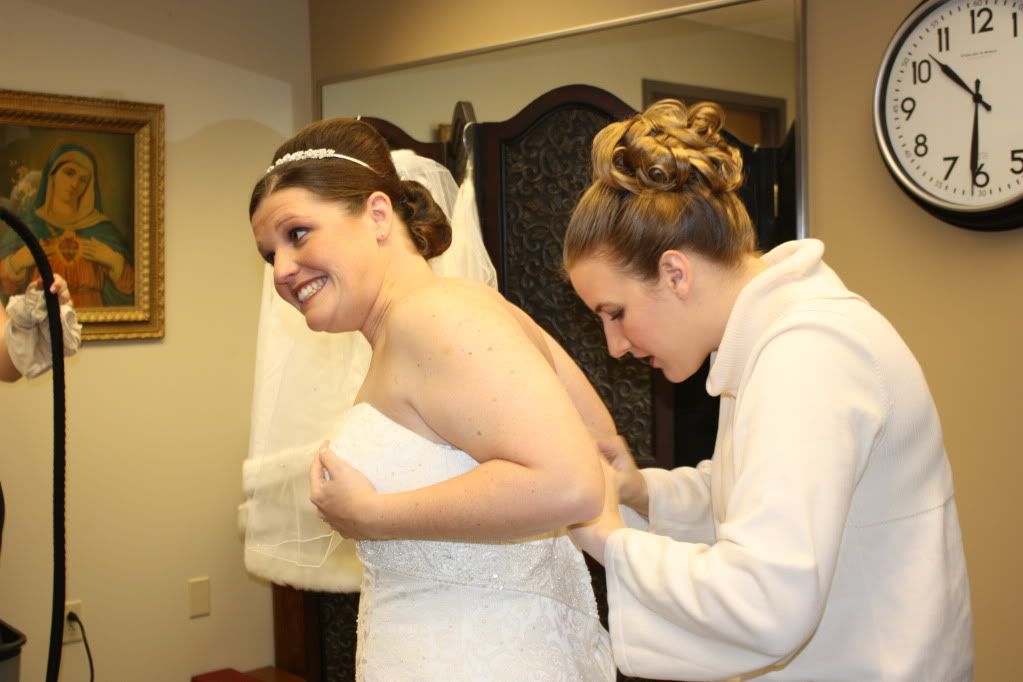 Pre
-wedding pics of Emily with her girls (I love how the
flower girls
are holding hands):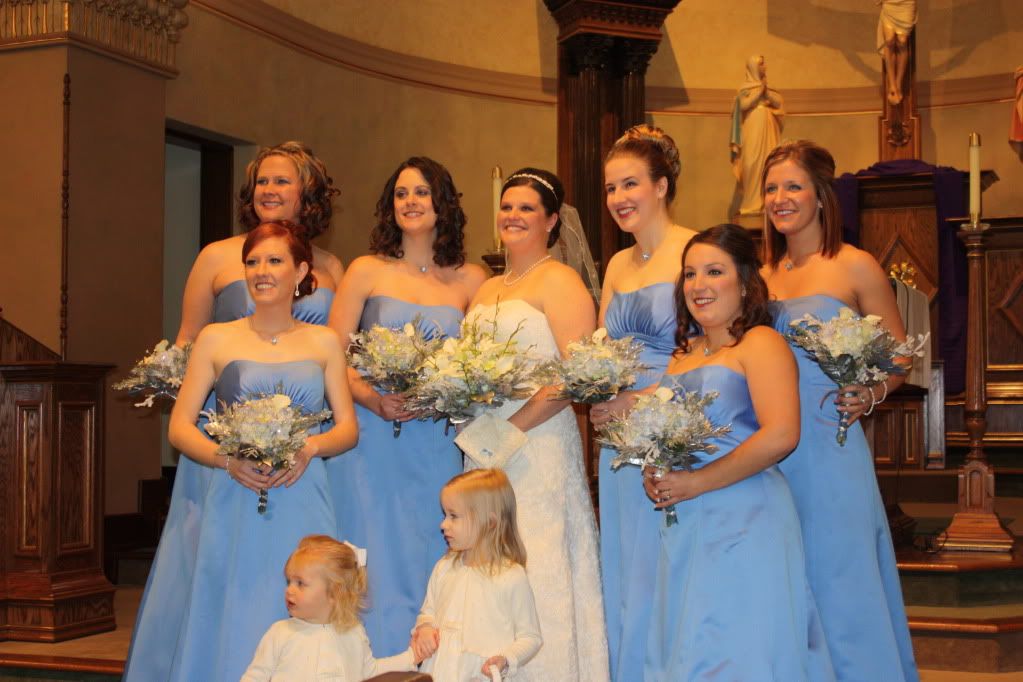 Everything went very smoothly
pre
-wedding and during the ceremony. It was
beautiful
! Natalie did wonderfully and walked all the way throwing petals. We couldn't have asked for more! I was crying just watching her walk down aisle, so by the time Emily walked down, I was a sniffling mess! :) After the wedding, Natalie went home with my parents to nap, and the wedding party got to ride on the trolley--which was a blast! Lots of partying, dancing, and laughing. We stopped in many historic places to take photos. Reception was great too! Mike and I enjoyed the evening together. The rest of the wedding pictures are up on
facebook
. Most of you reading can check them out there! :)
Just after the wedding and pics...ready to board the trolley!
Jumping on the capitol steps: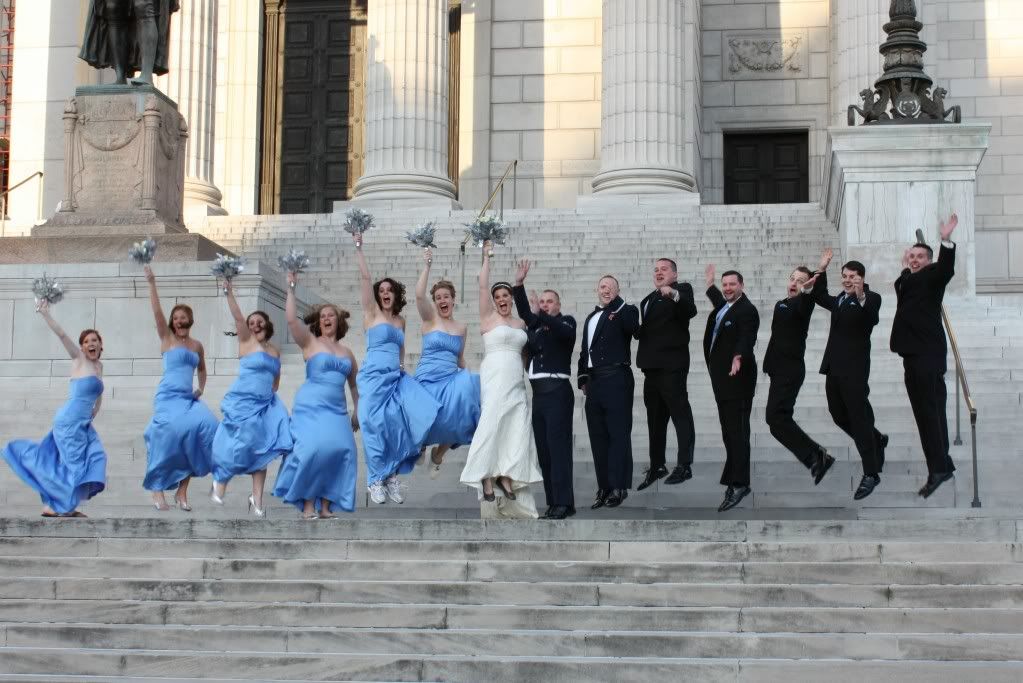 Some of the greatest girls: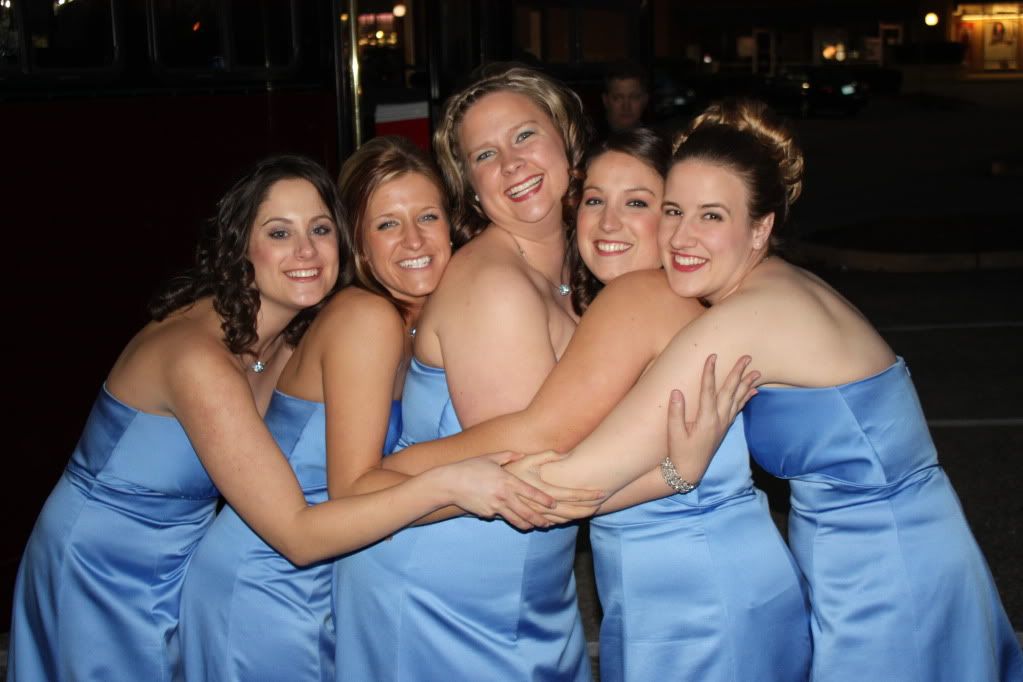 The next day we went home to more laundry and Christmas shopping that needed to be done. I sorted through 556 pictures from the weekend, and Natalie came down with a cold at the beginning of last week. It didn't seem too bad but her upper lip got sore (despite putting
vaseline
on it constantly) and she would scream every time she wiped her nose. Not fun.
Tuesday Mike had a minor surgical procedure to remove a cyst. Wednesday I went to Dorie's work to visit and sell some of my jewelry I still had in stock from when I sold Premier Designs. (
pssst
! BTW, anyone who might be interested in last minute Christmas gifts for yourself or others...everything I own is 50% off) We had a nice lunch together and I drove the newly open highway home!
On Thursday, Mike's parents came over for dinner and brought all our Christmas decorations and tree (since we store some of our stuff in their basement) I made enchiladas for dinner and
SURPRISE
! I used hot enchilada sauce instead of the mild. Whoops. We were all sniffling and chugging tea during dinner. Mike loved it. We put up the Christmas tree after dinner and I got such a kick out of Natalie's reaction to everything. She helped us hang ornaments and open other decorations. Later that night she told me, "
Monnie
, this is the best Christmas
ever
. Thank you!" For her to say that before she's opened a single gift just melted my heart. I hope she always feels this way.
My friend Jen was supposed to come visit this weekend as well. Unfortunately she was in a serious car accident and decided to stay home and recover. So please say a prayer for her...thankfully she was not seriously hurt!! Although I missed her this weekend, it was just as well, as I have been battling a sinus infection for the last 4 days. My body doesn't seem to know if it should give into it or fight it off. Ugh.
We also took Natalie to a Christmas light drive-
thru
on Friday evening. She LOVED it! It was also the first time she was ever out of her car seat and in my lap while the car was moving. She was so delighted that we did this just for her.
This was on the way to see the lights. I noticed she was pretty quiet, so I turned around to see that she had fallen asleep! :) Sweet girl.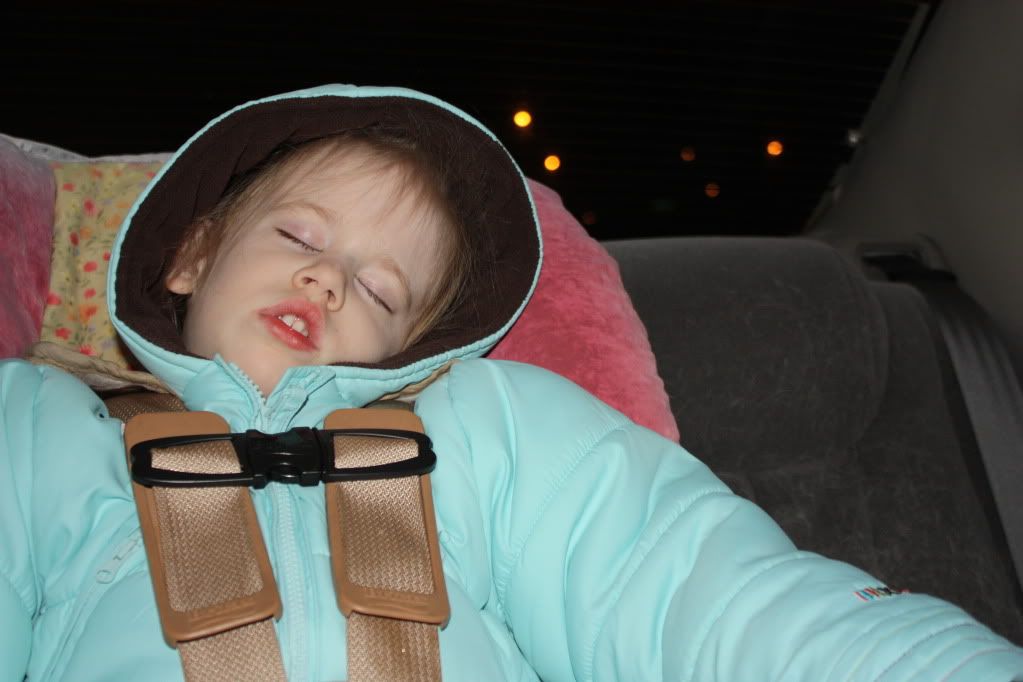 This is probably the best picture (least blurry) I have of the lights. Hard to pull it off without the flash...can't see the lights
with
a flash!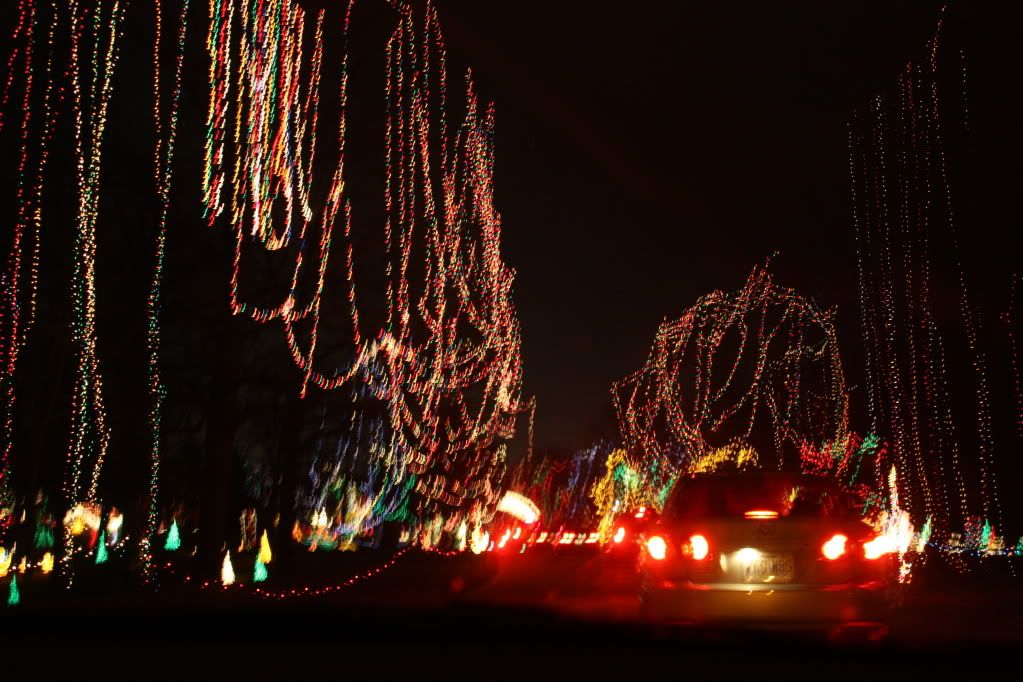 Also over the weekend, our lovely dog, Cole has decided to kick it up a notch and maul himself in the face. Why? Because he's itchy with allergies that are still quite severe despite the fact that we are no longer in allergy season. We found him in the living room (after Natalie came running to tell us that he was scratching) with a chunk of skin missing from his face and him dripping blood everywhere. I know, gross!! So we've decided to start allergy testing and shots. We are PRAYING that this works because it's expensive, but we want our dog back. He's miserable and it's making us miserable to constantly scold him for licking his paws and scratching. His quality of life lately has been terrible, and since he mauled himself this weekend he's been depressed. Not sure what's going on there, but I would be depressed too if I was so itchy all the time. So we just dropped $200 to have his blood drawn tonight, and they will send it off for testing. Then we get to spend a lot more money per-vial of serum for the allergy injections.
On a brighter note, we have been enjoying this season of celebrating Christ's birth! I love sharing the true meaning of Christmas with Natalie whenever I can...I know Mike does too. We haven't mentioned Santa all that much. She knows about him and what he does, but here at our home, it's all about Jesus' birthday! Lately, our favorite thing to do is to lay under the Christmas tree and talk. This is something we did briefly last year with her, and started it again this year. We just shove our presents to the back of the tree and keep them there. It creates such simple, precious memories. Have you ever seen what a Christmas tree looks like from underneath?? Go grab your child/teenager/grandchild and find out! Mike took these pictures last night: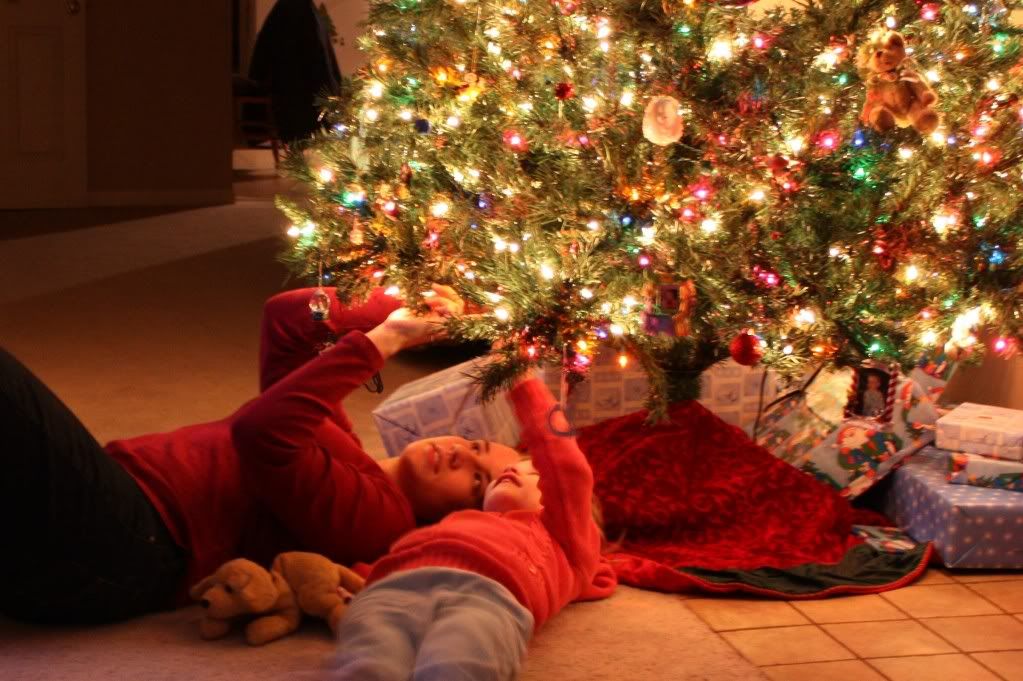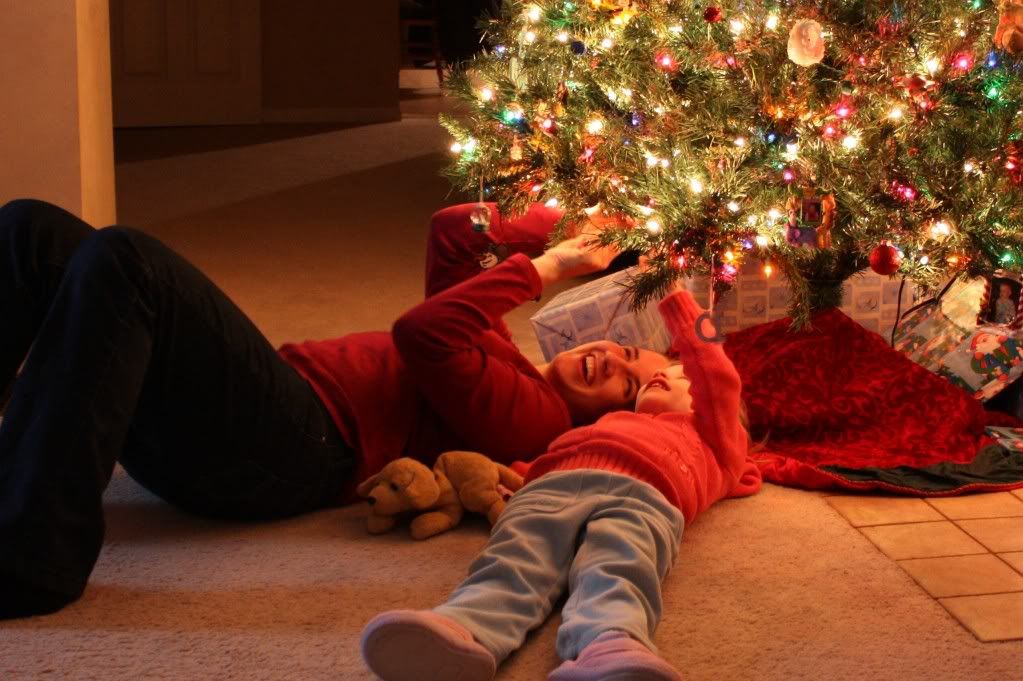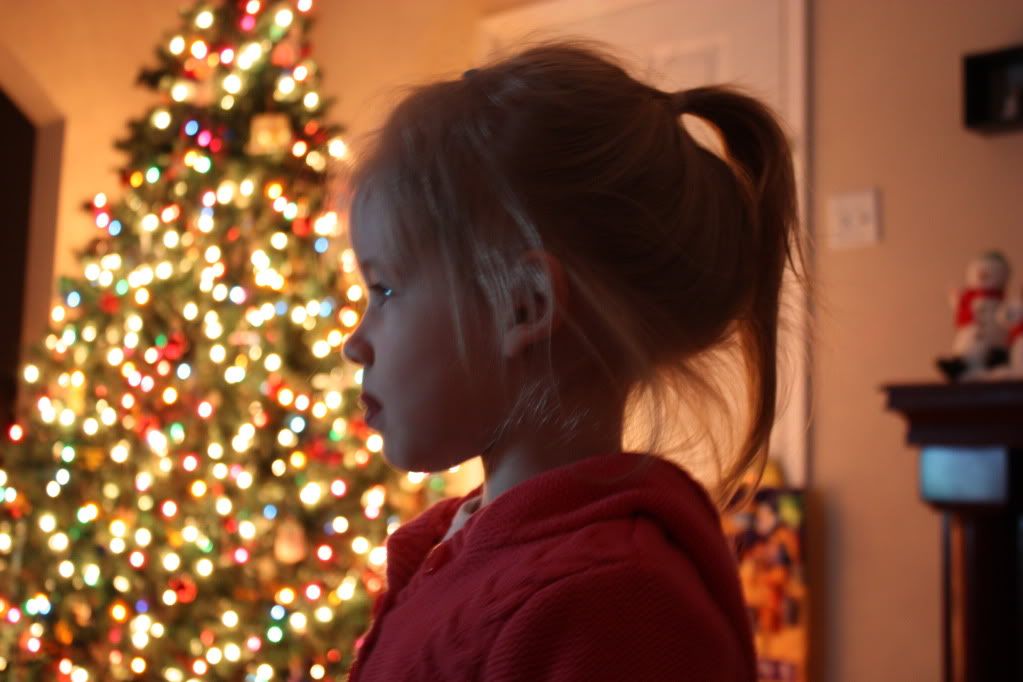 I took Natalie with me to finish up my Christmas shopping today. She was such a good sport until she got hungry. She found this necklace (in Claire's where I was secretly shopping for her) and asked me nicely over and over again for it. I kept telling her "no, maybe another day" the entire time it was in my hand, as I paid for it with a few other trinkets. We left the store as Natalie hung her head and kicked her feet as we walked. I had to stifle my grin b/c I can't wait to see the look on her face when she pulls that necklace out of her stocking on Christmas morning!
If you're reading this, I hope you will find the simple joys this Christmas season and remember
why
our Savior was born.