Regardless of the fact that I'm posting this almost 2 weeks late, I wanted to wish my husband a happy 7 years!!! October 31, 2002 was the day Mike first kissed me. It was the day our friendship turned into something more. Mike does not acknowledge any other "anniversary" than our wedding anniversary. However, I like to at least keep those other special dates in mind, and always remember our love story...even as it continues. That's me. Although Mike surprised me by telling me "7 years baby!" on Halloween, so I guess that counts for something. :) What a romantic!
Oh, and Halloween was also Cole's 5th birthday. Natalie wanted me to make him a cake, and when I explained that dogs can't eat cake she told me, "but I'll eat it, Monnie." :) Oh. Well how about getting candy instead? Sound good? Great!
This was our pumpkin this year. Yes I used a stencil. (My brother got the drawing gene, I still struggle with stick figures) Mike helped me stencil some when my hand cramped up, then I carved it out and he polished up the edges a little more. Pumpkin carving is fun for about the first 5-10 minutes and then I get tired of it. I feel the same way, every year. Just in case I need to explain what this is, it is an OWL. I didn't think I'd need to explain in the first place until my father in law said, "what is it? Some kind of bird?? I see a moon..." Har har. In my defense, he looked at it before it was lit...and we all know
THAT
makes all the difference.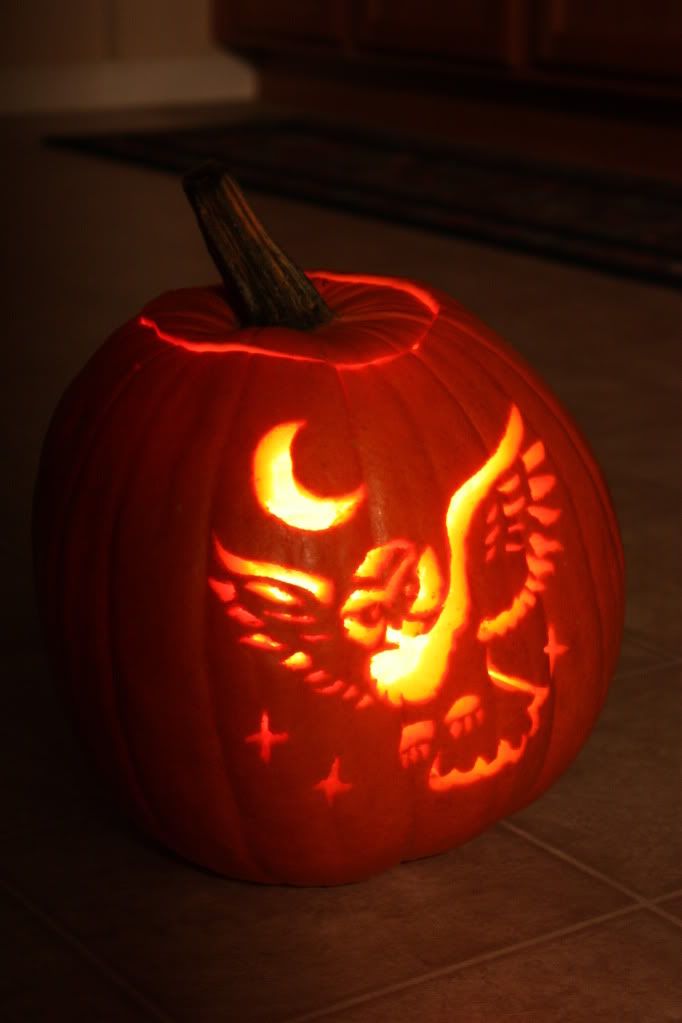 It was chilly that night, but we always feel fortunate when it's not raining or sleeting on Halloween. This little girl had on 4 layers, and I added the hat under her Minnie ears...the ears actually stayed on better with it. With mittens and a hat, she stayed toasty warm while we went trick-or-treating for an hour and a half with Daddy and Pop.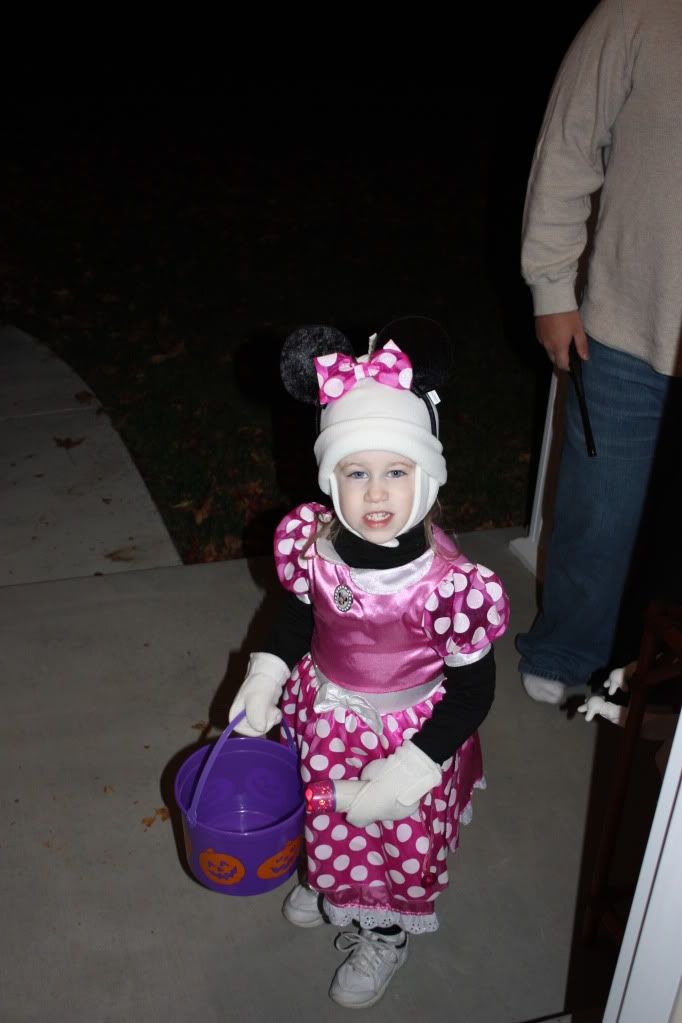 About half way through the night, she was telling us that she wanted to go up to the doors by herself. She did great! This was when we got back to Nani and Pop's house...her bucket was FULL and we were carrying it for her long before we were done trick-or-treating. She wanted to be carried the last stretch back home as well. Her shoes were tired, you see.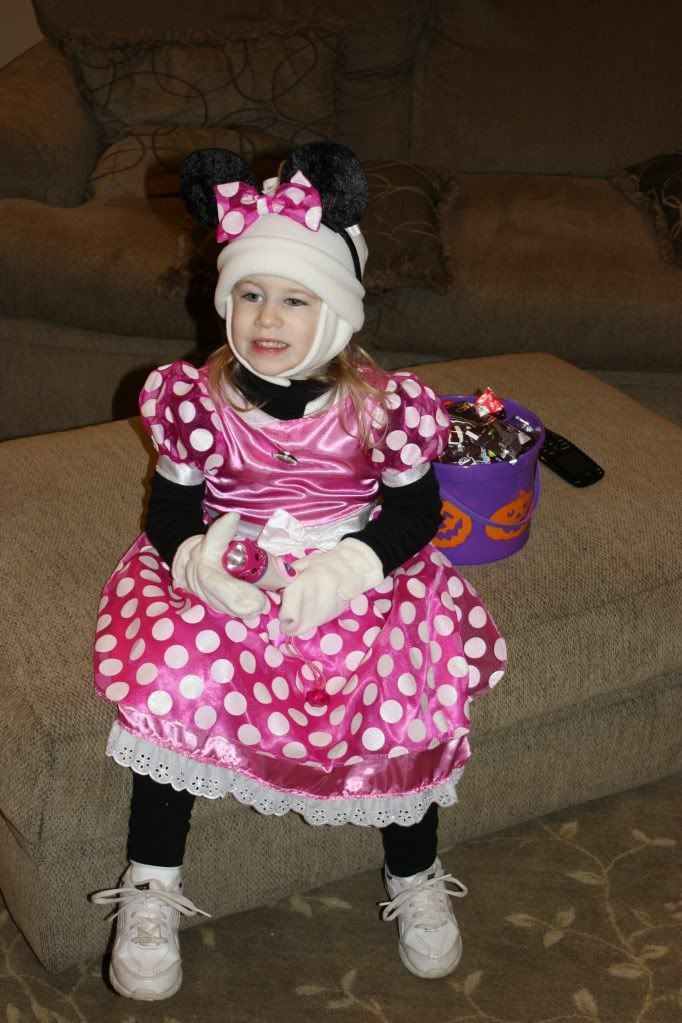 Going through her candy...that will last her
atleast
six months.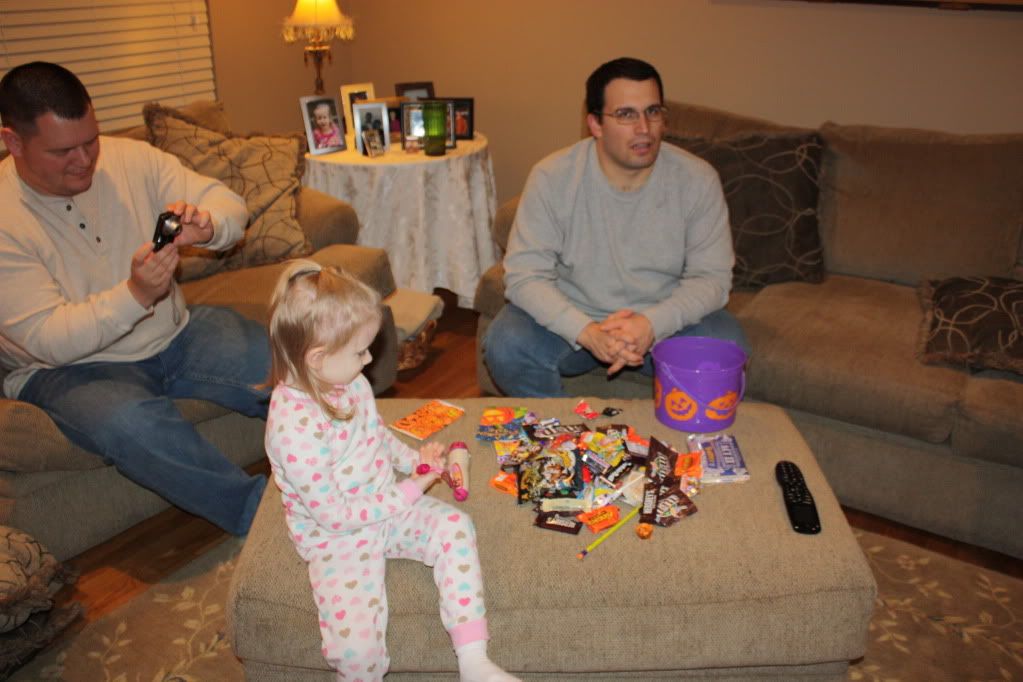 Since Nani stayed home while we went trick-or-treating, they got to have girl time when we got back. This is Natalie in Nani and Pop's bed...in the midst of their pillows. It was all her idea to plop herself there while she watched a movie with Nani.