I have been looking forward to this weekend for a long time. In recent years, the 4th of July has not been a fun day for me (or Mike) I think the last time we celebrated was SIX years ago. The last few years I have been here alone, Mike at work, and Natalie sleeping upstairs. Not much fun, but I knew we'd celebrate again someday!
Knowing that it fell on Mike's day off this year, I was excited. VERY excited. Natalie has never seen fireworks, except the illegal ones fired around our neighborhood. We decided to go see the fireworks downtown on the 3rd, since rain was in the forecast for the 4th. I don't think I've ever had this much fun celebrating Independence Day!
First of all, the weather was perfect. It was a little humid, but it was overcast, breezy, and the temps were in the 70's. My memories of previous celebrations were ones that you couldn't breathe when you stepped outside b/c of the high heat and thick humidity. So this was an unusual, lovely evening. We parked far away, and walked to the arch. We got there almost 2 hours early, but Natalie was well entertained with the music, helicopters landing nearby, and her dinosaur happy meal toy. Not to mention, her daddy bought her a glow necklace. He's pretty awesome.
The three of us:
Our view looking up:
Natalie and Daddy having fun: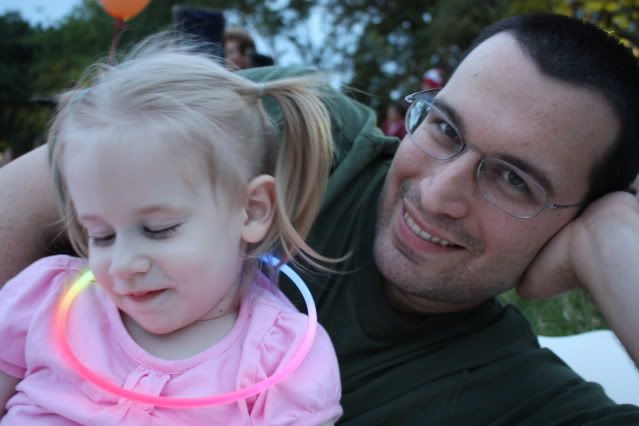 Our concert was by counting crows. I have to say, I like some of their songs, but now that I've seen them in person, they are strange. After the first 5 seconds of playing, I was afraid they would forget this was a FAMILY event. Mike and I just looked at each other with our eyebrows in inching toward our hairline. I'll leave it at that: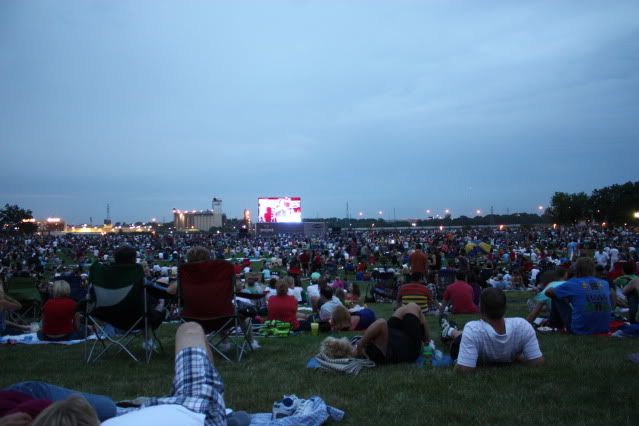 Relaxing and waiting for the fireworks to start:
My absolute favorite part of the evening was an unexpected one. It had sprinkled on and off for some time while we were there. Mike went to walk around to look at the vendors, and while Natalie and I were sitting there, it started to
rain
. I pulled out our umbrella, and Mike came back to find Natalie and I laying down, giggling under the umbrella. He joined us and the three of us played with the happy meal dinosaur, having the stupid plastic thing jump through the "hoop" of her glow necklace for 20 minutes. It got more and more hysterical, and all three of us were laughing. (I wanted to get a picture of that moment so badly, but it was difficult enough keeping my big camera out of the rain) To be honest, I could have cared less if the fireworks were canceled, because it was
those
little moments that made the night so special. Out of thousands of people around us, we felt like it was just us. When Natalie looks back on her childhood, I hope her memories are filled with those kinds of moments.
Right on time, the rain stopped completely and we got a show!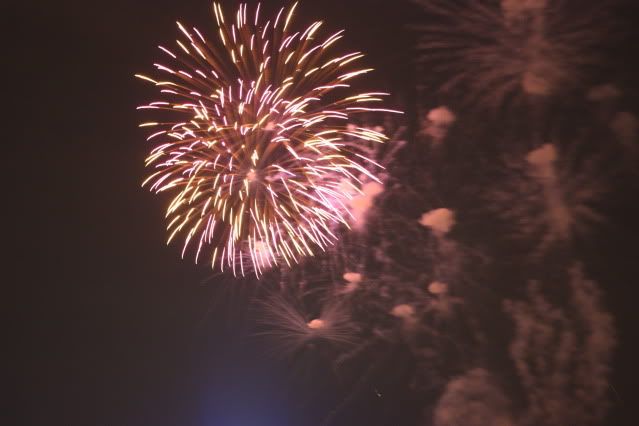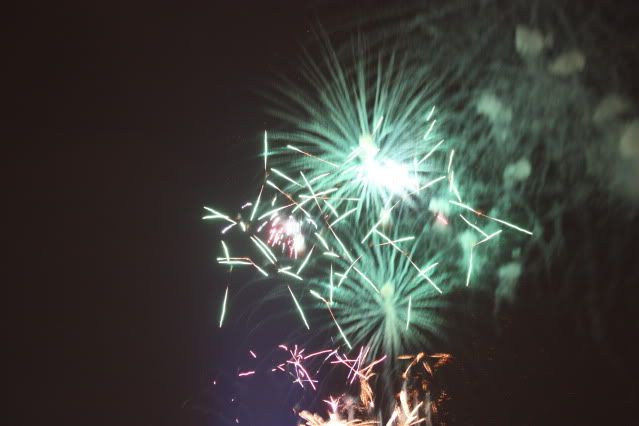 This is Natalie watching her first fireworks show (she has one hand on each of us):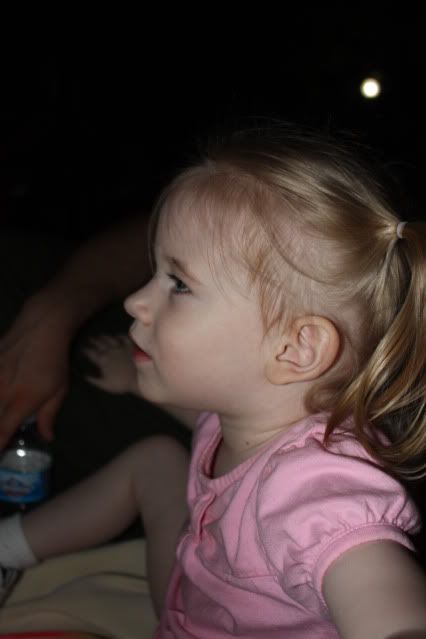 She did really well, and only got nervous toward the end when they were ALL going off. We had a great walk back to the car, and zipped on home. It was a fantastic evening!!