Saturday we planned a get together with some of our friends in the area. The weather was
beautiful
and we enjoyed catching up with everyone. I think there were 5 couples, plus kids there. Natalie had fun at the playground with the other little ones, she even got to fly a kite with Daddy.
One of the highlights of that time (for me) was that I got to meet and hold little Hannah. It's obvious her parents are so happy and in love with her too. Isn't she just beautiful?? Thank you guys for letting me snuggle with her for a while. I soaked up every second of it.
Many of our friends were not able to make it to the park that day because of Ryan being in the hospital. (his family website is one of the links on the left of this page, under "Hawn's" if you'd like to keep up with his story. I encourage you to do so.) Ryan is another baby we had yet to meet. He is close in age to Hannah, in fact, all 3 of us mommies were due within a week of each other, before our 2nd miscarriage. So it was an incredible blessing to meet these two babies, even on the same day!
We dropped Natalie off with Nani and Pop, and met Jenn and Chris at the PICU and went into Ryan's room. He was having a good day and being held by grandma. Once he was settled in bed, I asked Jenn if I could take a couple pictures and she said that would be fine.
When I uploaded this picture on our computer later that night, it took my breath away.
This is another picture I took of Jenn soothing Ryan while he was fussing.
Chris took this picture of Mike and I loving on Ryan. Isn't he precious?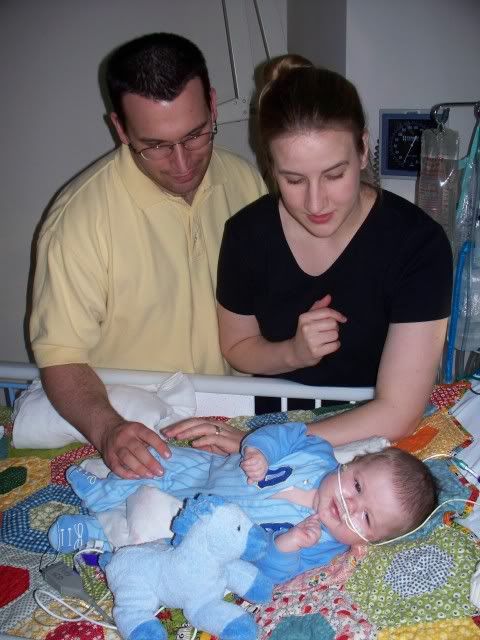 We had dinner with Jenn and Chris in the hospital and were able to spend time together. Thank you both for letting us come visit you and meet Ryan. We continue to pray for Ryan, as he is on our hearts all day, every day.