We woke Natalie on Friday morning with a blueberry muffin, candle, balloon, and a serenade of "Happy Birthday"...she obviously didn't remember this from last year. Although she was excited! We had been counting down the days until her birthday with a paper chain this past week. Which meant that with all the upcoming excitement, her sleeping was affected. I was grateful her birthday was finally here so
I
could get some solid sleep again!
Because she loves cupcakes, I decided to make her this cake this year. It was huge!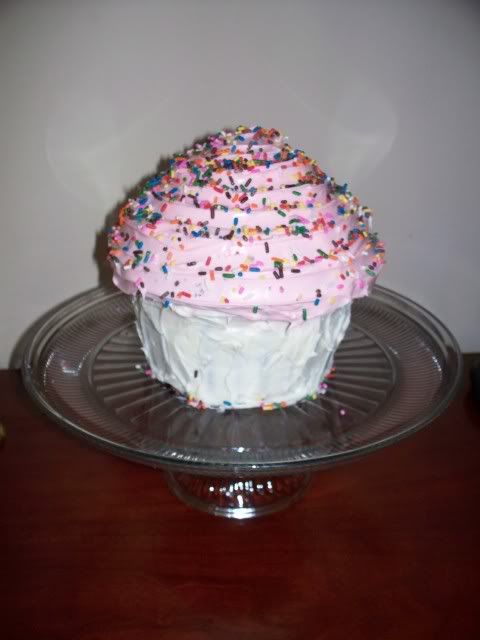 Waiting for Nani, Pop, and UB to get here...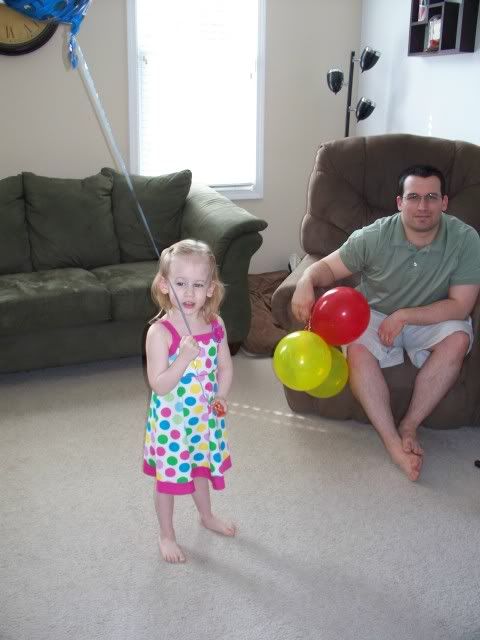 See the excitement?? She is wearing her party dress that she picked out herself: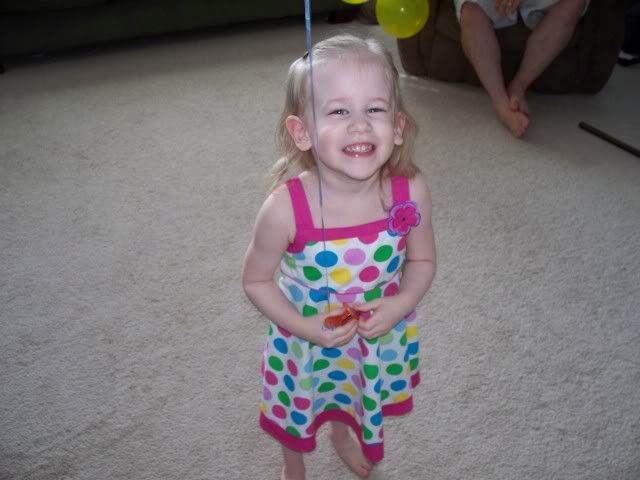 We had her favorite (spaghetti) dinner and then she was anxious for us to hurry up and finish so we could go open presents. It brought back memories of how slow my parents moved on my birthday. It was agonizing to wait on them so we could get to the gifts! So needless to say, she wasn't thrilled with me when I had to potty first, then get the camera, then a change of batteries...LOL But we finally got to open presents without her suffering too much ;)
This was her gift from Nani and Pop...a HUGE (ahem 4-story) doll house!! Oh my goodness, she loves this thing: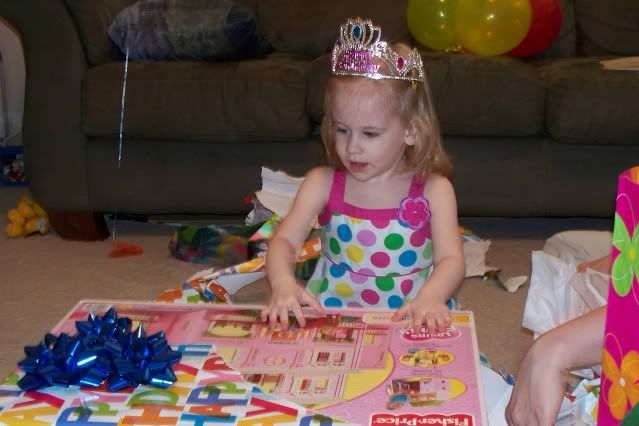 Doll house furniture. I can appreciate the muscle she is using opening presents. 'Atta-girl!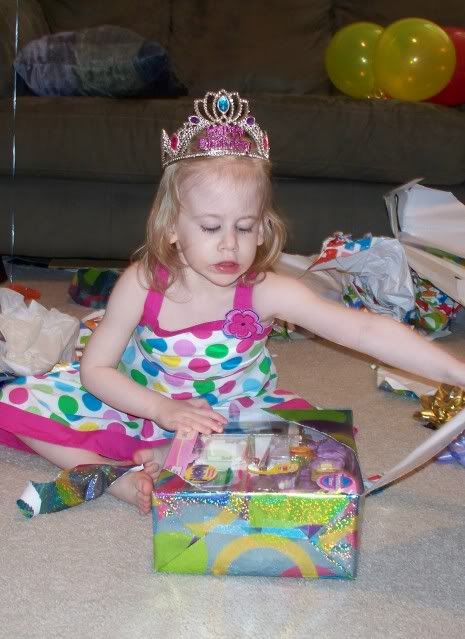 A new umbrella of her own!
We have yet to enforce a "no-open-umbrellas-in-the-house" rule:
A new backpack with her posed "smile." We're working with her on this...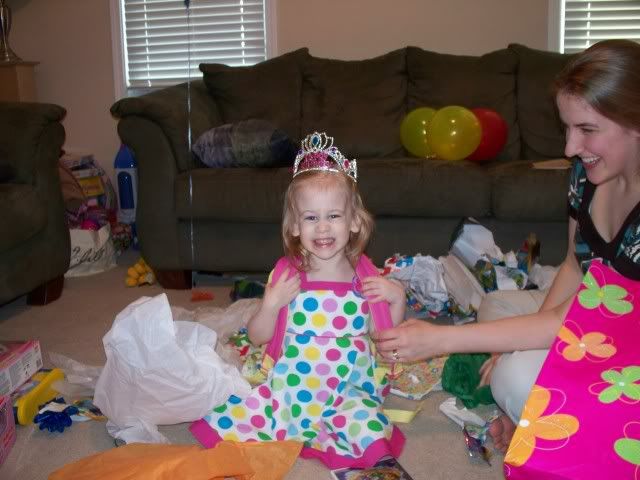 Opening a game...Cole sneaks his way into the action somehow. Every time.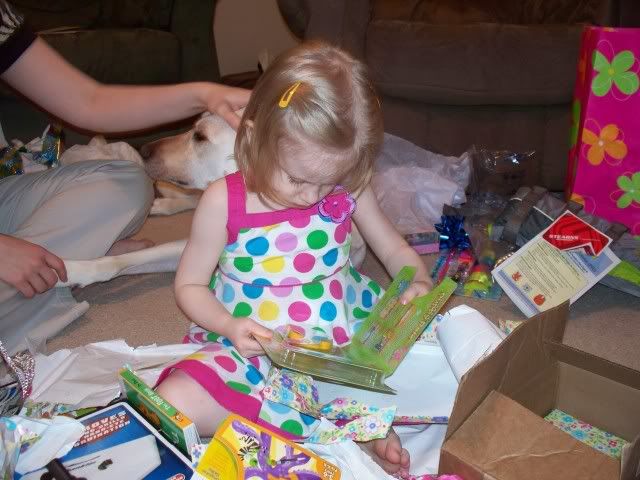 THIS
is my favorite picture of the night. She is sitting so pretty, and when I called her name she turned. Her hair happens to NOT be in disarray for once...and well, she just looks precious. I love it!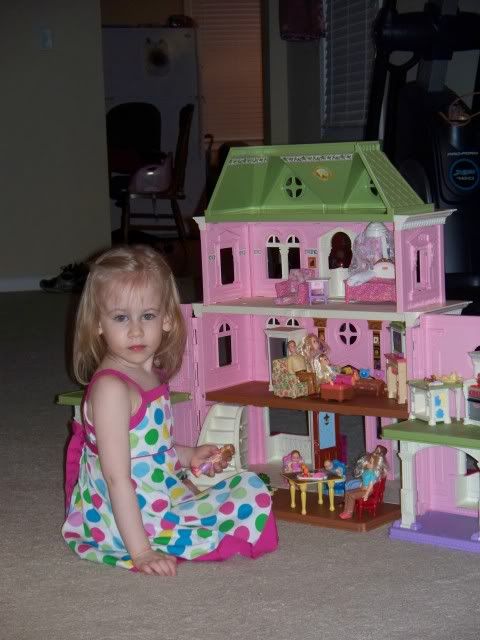 Nani spent a LOT of time that evening playing with her, with the new dolls and house. I didn't get a picture of it...but it was cute! I should mention that the birthday tiara Natalie was wearing was also courtesy of Nani. Nani told me there was a birthday sash that went with it but she didn't buy it. Upon further questioning, she didn't buy it (NOT because of self restraint) but because she thought it'd be too big for Natalie. Oh my goodness Nani, you crack me up! In her defense, she's been surrounded by boys for around 30 years. She's waited a long time for a little girl to spoil.
Ready for cake!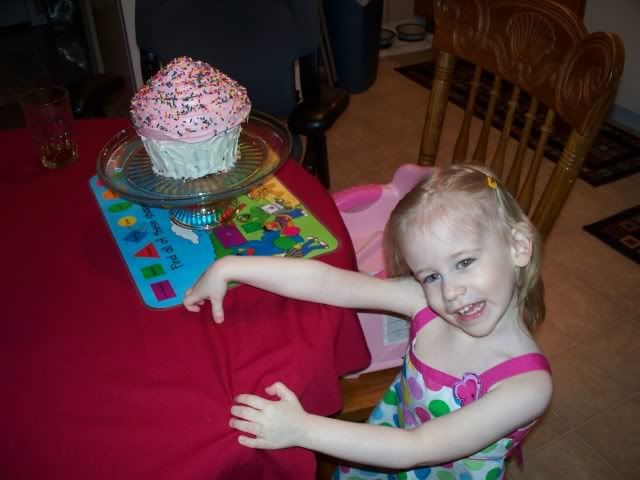 After all the gifts were opened, I think Natalie spent the most time playing with the 99 cent balloons. (of course!) We played keep-it-up for probably an hour...it was a lot of fun with 6 of us! Here she is playing with Pop.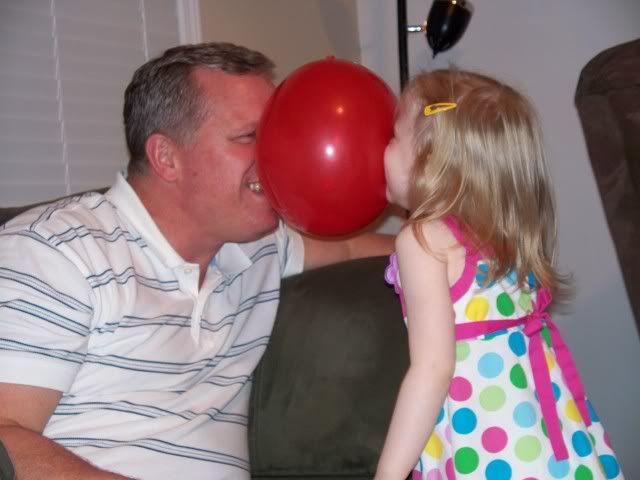 Our party guests. U.B. (Uncle Brad), Nani, The birthday girl, and Pop: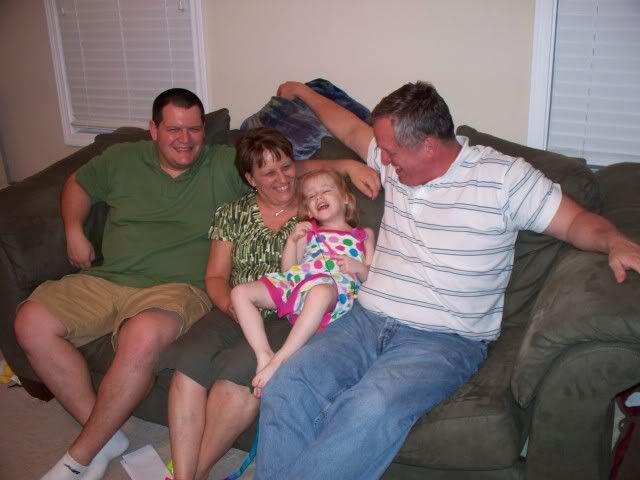 She had a blast! Thank you guys for making her birthday extra special!!