Natalie has always been a good traveler. She has a go-with-the-flow kind of personality and it extends into car trips as well. Lately, it's been even better and we haven't even needed much entertainment with the DVD player.
These pictures look like they were taken WHILE driving, but I assure you, I was taking them from the passenger seat...I was just leaning waaay over to get them. Don't you worry.
Last weekend we went to my cousin's graduation. It was a long day for her, but like always, she was a trooper and had a great time. No whining...just kicked back on the ride home:
Cole joined her: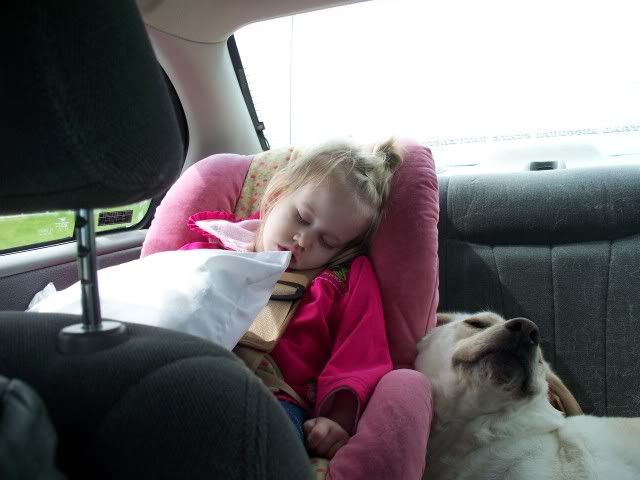 I thought this was cute...
This weekend we traveled again to stay with my parents. Friday afternoon I spent hours cleaning out their garage and setting up racks for an upcoming garage sale my mom is having. (I have a lot of aches and bruises to prove my efforts) Friday night I went out and caught up with a couple friends that were also in town, and Saturday morning I went up to a bridal store with my friend to try on bridesmaid dresses. That was hilarious, and I have pictures, but will spare you. :)
On the trip back home we stopped at McD's for Natalie. She was happy with her t-Rex happy meal toy and thought it was fun to stick it in the sunshade netting.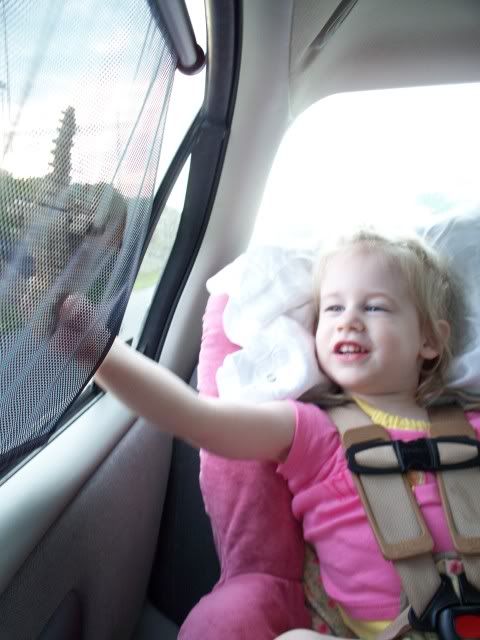 I just love her sweet smile...
Did you notice the pillow behind her head? We like to travel in comfort.