Wednesday night we took Natalie swimming at the Y. She had a blast and was even cuter in her swimsuit without that swim-diaper! I forgot the camera...as well as another important essential (TOWELS) but thankfully they have complimentary ones so we didn't have to freeze in the locker room.
Thursday evening Mike and I enjoyed a quiet night at home catching up on TV shows we enjoy.
Friday, Mike's mom took me to a spa and had me pampered for THREE hours. I had never had a massage before, and I wondered how someone could be massaged for a full hour. I am now in agreement with Dorie, it is the fastest hour ever! It was wonderful!! Then we had a pedicure, which was
so
nice. (The only pedicure I had before this was when I was 9 months pregnant, and could no longer reach my toes) Then we had our manicure done, and were all finished with pretty fingers and toes!! When we got home, Natalie LOVED our nails, and wanted hers done too. So she had getting her fingers and toes painted that evening too.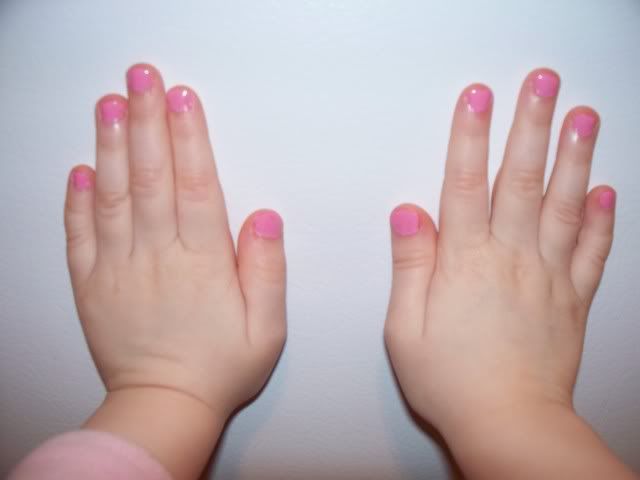 Friday night was not-so-great. Natalie kept waking up congested and miserable. I spent a lot of the night in her bed, trying to get her comfortable and catch some sleep myself. She finally slept sound between 6:30-9:30AM.
At 8:20AM, I heard a LOUD booming noise. It shook our bed! I elbowed Mike and he heard it too. We waited and heard it again, so he got up and dressed to go see what was going on. Mike searched our house, then went outside and found someone trying to break into our house! (luckily the guy didn't see him) He called 911, and they were here within 2 minutes. The guy was sitting on our steps, and was arrested for attempted burglary. Apparently he just got out of prison, and was very intoxicated. There is damage to our basement door where he struck it with a baseball bat, and then tried to pry it open. We are pressing charges, and this loser will be sent back to jail. Very scary situation, but we are well aware of God's protective care over us.
Three different police officers advised us that, unfortunately, these things happen. If he
had
broken into our home, or if this does happen again in the future, we have every right to use a firearm against him. It is our
right
to protect ourselves, our family, and our home. We never thought much about this before...I guess we had the "it won't happen it us" mentality. Hopefully it won't again...but if it does, we have a plan. Do you?