Mike is not a sentimental person. He is very straight-forward and practical. This is something I have always admired in him, b/c it has proved productive in most situations, and has been a good compliment to my own personality. With both of our miscarriages, I grieved for a much longer period than he did. I still cry about it...it makes me feel better to let it out. Mike dealt with it, and moved on much quicker than I did. For me, this felt very isolating. I felt alone in my grief. I don't understand why I can't seem to get past this...or why I still have anxiety some nights that keeps me awake.
So needless to say, we have had some major bumps in life's path this year. Mike has, time and time again, found a way to reach out to me and make me realize that I am not alone . If anything, these bumps have given us the opportunity to become even closer. I think we both do well at communicating and ironing out any issues that get between us.
Last Wednesday was our due date with the first baby we lost. This was a very hard day for me. March 1st will be another difficult day as well. In my head, these miscarriages would be easier to understand if I was pregnant again before the due date. (B/c it would not be possible to have both babies) But this isn't the case. I went to see a specialist a few months ago, and she recommended we wait before trying again, to let my body heal. She also said that although extremely rare, she thinks the back-to-back miscarriages are both flukes and are not likely to happen again. I also don't need any type of medical intervention or supplements with my next pregnancy. This is
very
wonderful news.
Monday morning, Mike came home from work and Natalie and I were still sleeping. He handed me a package and told me to open it. I had a heck of a time in my morning fog, and it was funny how long it took to actually open the box! Anyway, inside was a chain and pendant. It is a memorial for the babies we loved and lost.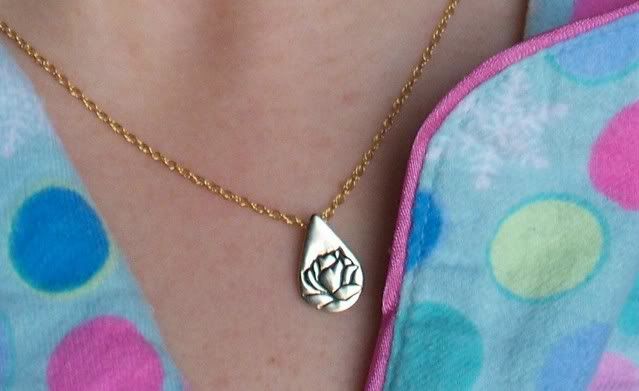 I appreciate this loving gesture so much. Mike will find a way to connect with me, spoken or unspoken, even over our loss. He is one of the greatest gifts God has ever given me. Also, thank you to Dorie for helping him get this to me as a surprise.
I also wanted to share what my mom gave me after each loss: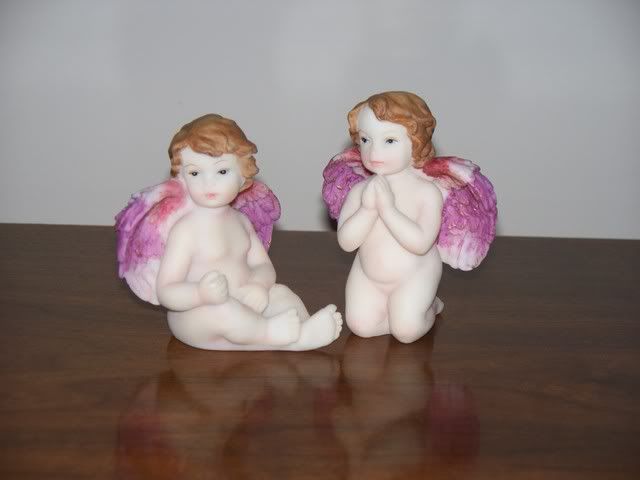 This will be the last post about our losses. It has been a great thing for me to hijack my own family website and use it to express my emotions. Thank you for letting me share all of this with you. I have always debated about what to share, how much detail, etc. etc. Miscarriages are sad, and uncomfortable for many to talk about (I often do much better just writing about it) but I wanted to be clear that I am in no way ashamed of what has happened. These were my babies, and I love them. God gives and takes away. Whatever He does with our lives, we will praise Him. More than anything, Mike and I are so grateful for Natalie, and the delight she brings to our lives. We would love nothing more than a houseful of children!