Friday morning, I went in to Natalie's room, and this is how her crib was. This crib is only 2 years old, and has not been abused (she can't even jump yet!) The mattress was sagging down so much, it was below the bottom edge of the side rail. We are so relieved she didn't get hurt in any way. Here are a couple pictures: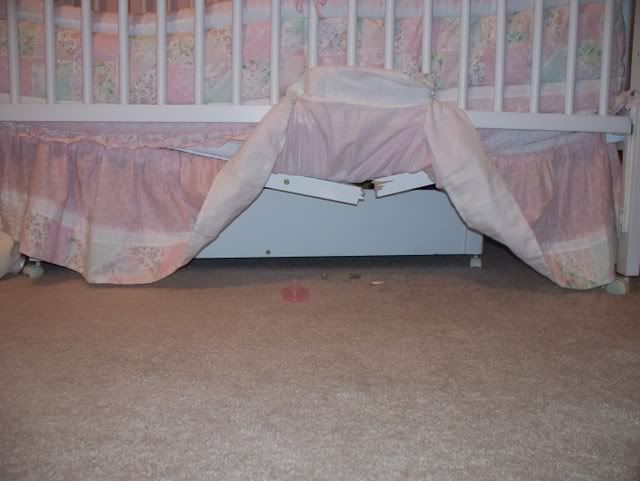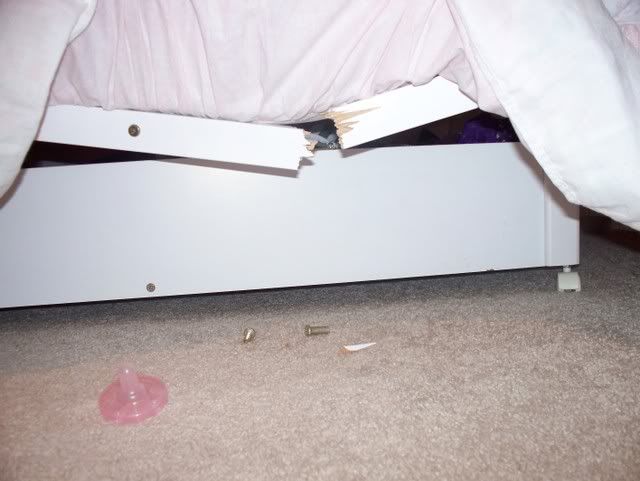 I called graco, and once they established that Natalie was
not
hurt, they were very uncooperative. I found out that they no longer makes cribs with wooden mattress supports, only metal. Although they never notified anyone for these **very important** replacement parts! I had my money refunded, and am in the process of shipping the crib back to them, but will be filling out several complaint forms about this company. What made it worse, was the lady on the phone ignored the fact that Natalie's safety was put in jeopardy by their faulty product, and treated me like I was a burden. I have emailed quite a few friends/family about this, to check and make sure your crib has metal mattress support beams. *not wood*
So needless to say, we were out Friday evening looking for cribs. Her bedroom suite is white, and the only white crib we could find had a wooden mattress support! *not happening* We called and found one we liked at a different store, but the entire time we were working with the sales people, Natalie was crawling on and off the toddler beds, giggling, then pretending to sleep. Mike and I looked at her, then each other, and decided to buy a toddler bed.
It has been an interesting transition! She loves that she can get out of bed, go get her toys, and bring them back in bed with her...which keeps her up, so I take them away and tell her goodnight...
again
. **yay for video monitors!!** Last night, we saw that she had a book in bed with her, and was starting to get out of bed to get another one. I ran upstairs, and opened the door and found her scrambling back onto the bed, trying to shove the book under her pillow and lay down. LOL. How can anyone not laugh at that?? Mike was downstairs watching on the monitor, laughing as well. Tonight is the 3rd night, and she understands that she doesn't get to play with toys, and must stay in bed. So all-in-all, it's been a very easy transition, she was obviously ready.
This is a pic of the morning after her first night in the bed. We woke up to the music from her toy piggy bank.