Mike had a call from the airport in OK. They were confirming he's still interested in the position and will be calling back this week to schedule an interview. YAY! Lately we've talked a lot about different opportunities and things we'd like to see happen for our family. After Natalie goes to bed, we spend 2-3 hours together every night. We really cherish that time!! I write mainly about Natalie on here, b/c lets face it, that's why most of you read this blog! However, there is a lot going on in our lives (as a couple) as well. Thankfully, they are all good things! Can you believe that we have been together for 5 years now?
Natalie and I had another great day together. Her latest trick is to feed Cole treats! This is progress from 2 weeks ago when she'd try to put them in her mouth instead of his! Now we tell him to sit, hand her the doggy-treat, and she'll go put it in his mouth. Earlier today she was picking up a book, sitting down next to Cole, and babbling as she was turning the pages. It really looked like she was reading him a story! She loves to "pretend read" and has done this for quite some time, but this is the first she's read to anyone else.
Natalie's hair is getting longer and thicker! Several people have mentioned it to me, and I've started noticing the changes myself lately. This may not look like much hair to some of you, but believe it or not, this is a LOT more than she's EVER had!! LOL
This was taken 3 months ago....(it actually looks like she has NO hair here, but that's just b/c it's so blonde)
This was taken this week: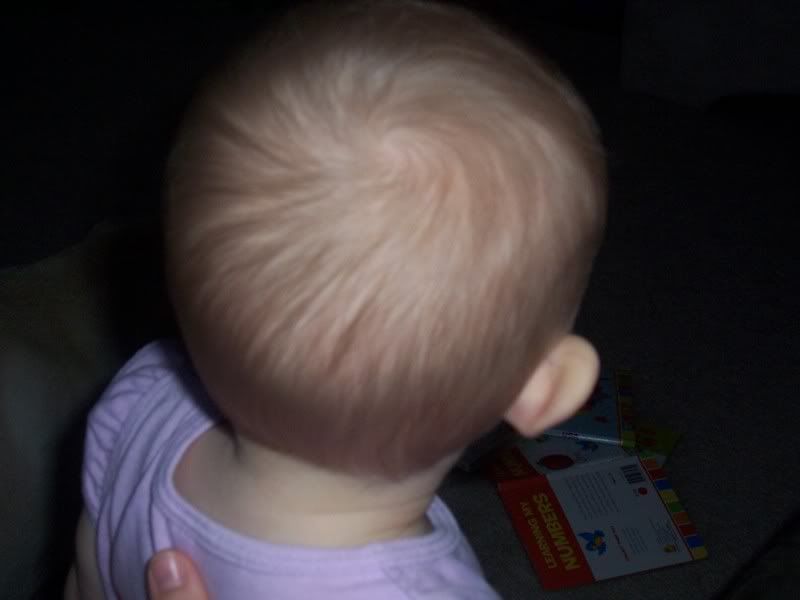 My parents just celebrated their 30th wedding anniversary on Saturday! Happy Anniversary to you all! They are escaping the 100-degree heat with a 2 week trip to Alaska...1/2 land, 1/2 cruise. I hope you all are enjoying it!
For now, I'll close with another recent picture: