Natalie and I packed up our bags and went to JC for six days last week. It was so nice to be home! One of the highlights was visiting with my cousin, Amanda. I think we sat and talked for 3 hours! I enjoyed our visit so much. The rest of the week went by quickly as well. Mom and I took Natalie to the pool on Saturday, and Sunday we went to church. I always look forward to services, esp. when I am home. The friendly, familiar faces are so uplifting, and I enjoy finding out what everyone has been up to. I always wish I could spend more time there.

Sunday night we grilled out at my sister's house. It's always nice when the four of us (siblings) can be together all at one time. This only happens a few times a year...b/c of this, we always try to get a picture of us all together. Then the bunny ears, tickling, hair pulling, and scrunching happen. Ironically, the oldest of the bunch is always the instigator. **ahem ahem**
Monday we visited my grandpa. Dad and I later took Natalie home, while Mom, Cory, and Grandpa went fishing with Jason. Apparently Mom caught one of the biggest bass anyone has pulled out of that lake! The guys were beside themselves...then she caught an even bigger one just to rub their noses in it. Dad and I were starting to roll our eyes at her "fish stories" when she showed us the picture to prove it.
Tuesday we noticed that Natalie had a runny nose, and wasn't her usual, perky self. That night was the longest night of my life. (I'm sure it was worse for her) She was up and down all night, and when she woke again at 4 am, she had 101.8 fever. Poor babe was so miserable. I got 45 minutes of sleep that night. When she finally did sleep, I was up worrying about her. Grandma came in our room to offer support too. Once a mother, always a mother. (Thanks for your help, Mom...it was nice not to have to worry alone) On the upside, this was the very first time she has ever been sick. She will be 15 months old on the 8th of Aug. I can't complain.
Wednesday is the day Natalie and I came home. The car ride was long, she was not feeling well (all of us were tired) but we got here safe and sound. I enjoyed watching Natalie see her daddy and best buddy Cole, for the first time in 6 days. She has spent a lot of time cuddling with Daddy since we've been here.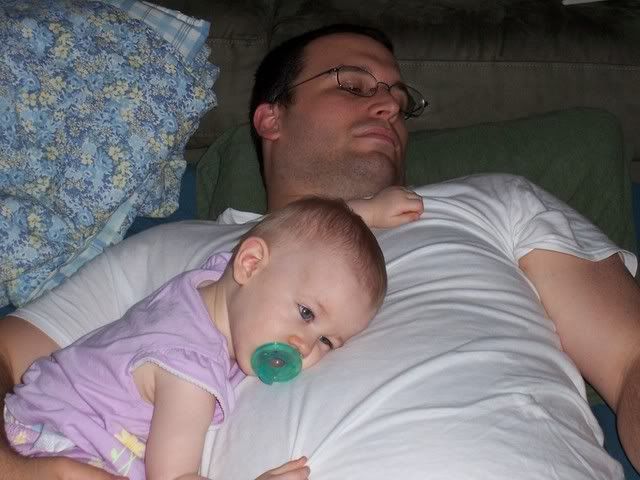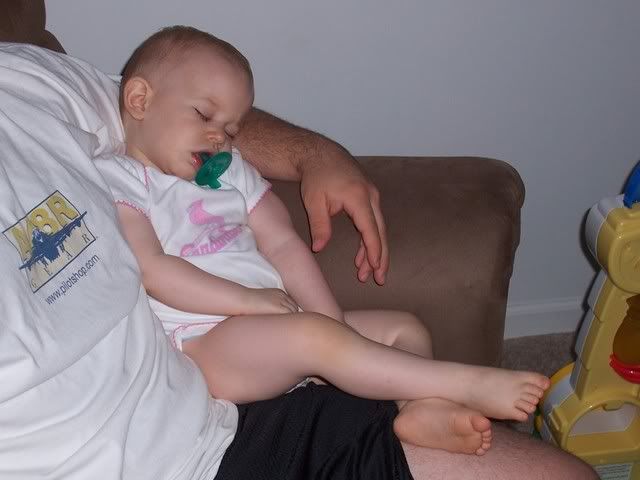 Wednesday-Sunday have been a blur. We inflated an air mattress in our livingroom and spent a couple nights out there with her. As of today, she is SO much better. Appetite is back to normal, she is getting into everything again and keeping us busy. Throughout this ordeal she has had little interest in her bottle so as of today, we're done with those!
Mike's family is taking Brad back to school this week. Have a safe trip, and we'll be looking forward to seeing you when you get back! (You'll be amazed at how skilled Natalie is at walking now!)