This past year has gone by so quickly! Natalie is now 14mos and her favorite buddy is Cole. (Our 2.5 yr old labrador) He withstands the rough "petting" and tugging, and hates to be in a different room than her. He is our "gentle giant"
We have even witnessed him try to keep her out of trouble. Although he had some shortcomings at first...
We celebrated Natalie's first birthday on May 8th. We had a small gathering here at our home. It is very hard for me to believe that our baby is ONE! How did that happen? Didn't we JUST bring her home from the hospital? It has been a wonderful year, she has the most wonderful temperament and I am blessed to call myself her mommy. Here is a picture of her in the birthday dress.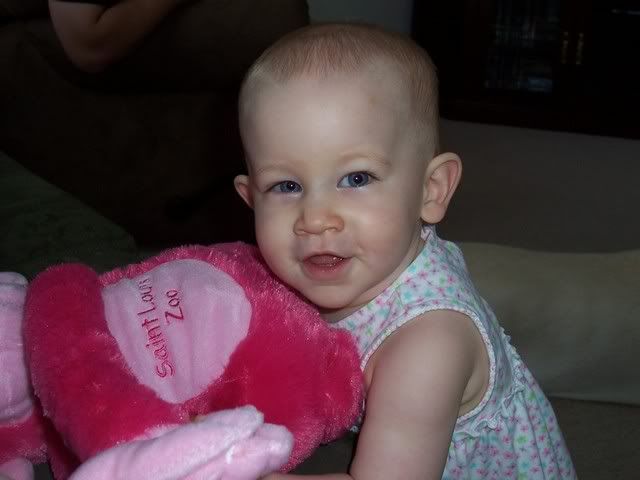 We have recently become members of a church down in south county. We enjoy it there, and Natalie seems to enjoy the nursery. (no crying yet) I used to feel guilty about leaving her there, but quickly got over that. I think it's good for her to have more interaction with toddlers her age...esp. with me being a stay-at-home-mom.
Mike has been on the job search lately. Although he really enjoys his work here, it requires us to live within city limits. It never really bothered us until Natalie came along. Now we long for something quieter, and less crowded. So we've been fixing up the house, trying to get it ready to go on the market.
Perhaps our biggest news yet is that Natalie has started walking!! She took her first steps on July 5th. Daddy, Mommy, and Uncle Brad were all here to witness it. Now she's getting brave and walking 10-15 steps at a time! Good job big girl!! She also has 4 teeth (and more on the way)
Here are some more recent pictures:
Natalie and her friend Charlotte. Charlotte is having eye surgery on the 27th of this month. Please keep her (and her mommy and daddy) in your prayers as they go through this uneasy time.
Daddy and Natalie on Father's Day